How nice to just lounge around the unit until noon – Bliss working out, me sleeping in, bloody marys waiting in the fridge for the omelets stuffed with grilled asparagus and gorgonzola (can you say leftovers!).
One slight detour on the way to Pendleton… missed a turn – it was marked "Truck Route To Oregon", but no road number. It snaked us through a small town and suddenly we are on a newly paved road – better signage would be helpful.
Top was up for the first hour and a half – it rained in McCall starting in the evening – and the day was filled with driving through light rain, light clouds, sun, light rain, you name it, but the top stayed up until we got to Pendleton.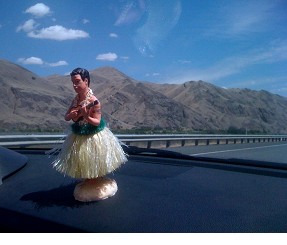 Thanks again to Bliss for his iPhone photos.
Bad news from our first stop in Pendleton – the Wool Mill that makes their blankets – no 9am tour because of the summer mill closure, only the 11am and another one. Damn. A reason to come back – actually it's a really cute town that must turn into a zoo at the Pendleton Roundup.
Got into the room at the Travelodge at 4pm, bagged going to the museum, and just settled in until dinner.
Here is the photo of the lunch side of our dinner place: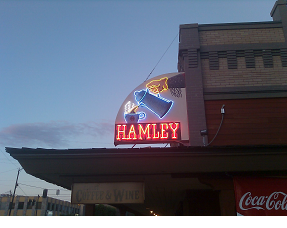 Nice big old school restaurant – lots of pressed tin, dark woods, the works. I had the prime rib dip, fries and a salad, Bliss has the chicken steak with a side salad – we both needed greens. Inexpensive enough, but I feel like a sow stuffed just before thanksgiving.
[? ? ?]