I made breakfast for the boys (Johnny and Curt) of scrambled eggs, ham and bacon – with toast from the loaf of bread I baked last night. Yum. And reasonably healthy.
Made a run to Safeway for coffee, gas, and yes, more meat for the freezer, but most importantly – for wine, since we pretty much blew through my "cellar" last night.
And let's talk about the weather – windows open on all four sides of the house…. As the temperature climbed to 95 degrees today. We are not surprised that Swanda has backed out of dinner on the deck. Offered his place, but with the boys arrival variable, it just wasn't going to work. Maybe tomorrow.
Dinner at the house tonight for four – BamBam, Helene, Hummingbird (below, in that order).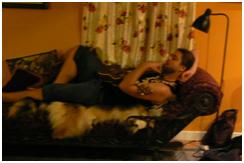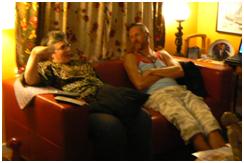 Tiny pictures for such a full evening. Went to the neighbors party – watched it get shut down by the ex-principal violist for the Seattle Symphony, had some beans, came home.
More chat, no hot tub. Maybe I shouldn't have filled it.
Off to bed.
[2271]