It's fairly amusing (to me) to pack a huge carry-on for an overnight trip to Portland.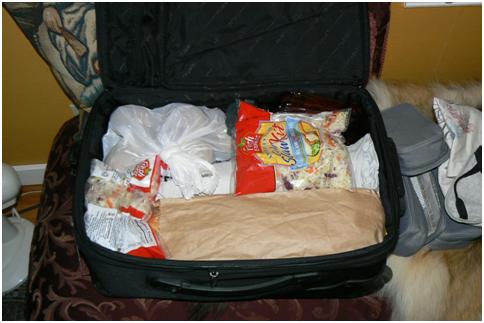 But when it includes three bottles of wine, a bottle of whiskey, a four-pack of Absolute minis as a thank you for a bed, two loaves of bread, one stick of butter, two packs of coleslaw, six Idaho russets, four pork tenderloins and a bottle marinade – no wonder it weighs a ton.
Got to the Amtrak station after a stop a Uwajimaya for day old sushi and got three tickets issued. Today's business class seat to Portland, tomorrow coach seat to Seattle, and the roomette from Santa Fe to Seattle after Christmas. I wish this was my car for the trip down south.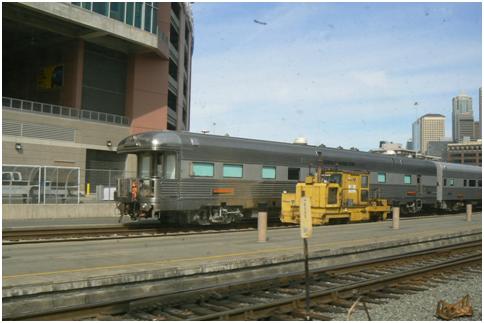 The car (BNSF1) was part of a six car train belonging to Burlington Northern Santa Fe – no wonder Warren Buffet bought the whole company if this is how he gets to travel. If you want to see a roster of all the business cars for BNSF, it's here: http://www.qstation.org/BNSF_Biz_Cars/index.html
I love taking the train to Portland, it's so relaxing – even if I did have to sic the conductor on a coach passenger that had been drinking (or was off her meds) plopped herself down over three seats at the front of my car. And this trip I just hoped on MAX which is a couple of blocks from the station and it's a direct shot to Julian's house (and another two block walk). Damned convenient.
Dinner tonight was a party of six. Me, Jameson, two friends of his from high school, one boyfriend and one child. Nice meal, but I was up way too early (7am) this morning, so it was an early night.
[226.5]