An early day for this household – we are due out the door at 9:45 for breakfast with Mouse at the Mama's Royal Café in Oakland. Food was good, service getting my mimosa wasn't so good. An exterior shot from their website: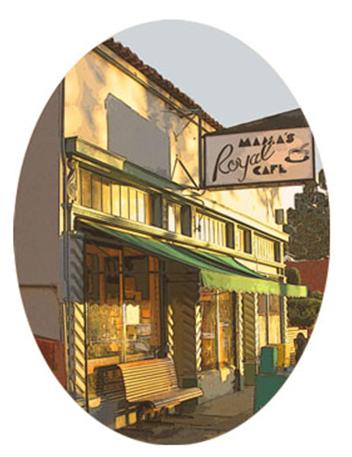 Nap time for me after the Eggs Canadian (like a Benedict, but with thicker meat).
Booked another night in Seaside for my date on the 16th with this young hottie… now the plan is to be there for two nights. Wish me luck on that adventure!
And I figured out what the real cost of a first class seat on Virgin America between Seattle and San Francisco costs — $261 each way. So even if I upgrade on the way back… $78.60 + $70 + $70 = $218.60 as opposed to booking in First Class orginally which would have been $522 roundtrip.
Onyx's sister got in from Mexico in the early afternoon and after a little conversation we were off to the Berkeley Bowl to grab food for two nights worth of dinner – and Sunday Leg of Lamb roast over Hawaiian sweet potatoes and tiny multicolored potatoes and onions, a big salad, and a couple of bottles of wine.
It was an early night for us – Sister with back pain from before the flight on Vicadin and a martini, the boys from a bad night of sleep the night before, and me, just cause I love to sleep.
[? ? ?]