Didn't leave the house today. Didn't come out of the bowels of the basement (OK – it's really a daylight basement with tons of light) until 10:30 – luckily coffee was delivered.
Breakfast: Leftover chicken drumsticks from last night and leftover omelet from the first morning.
Lunch: Leftover slices of lamb from the second night.
Dinner: Fresh guacamole and chips (antipasti), and hour later a chicken Caesar salad with heirloom tomato (yes, just one) and goat cheese — secondi (leftovers combined).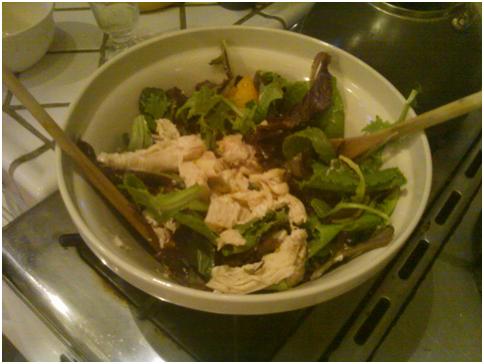 Dessert (dolce): fresh fruit and berries with ice cream.
Sorry for the Italian – I've started Grisham's The Broker, which is has a character in hiding in Italy learning Italian.
Maybe this shouldn't be called Day Four, but Leftover Day – but damn tasty.
Slowly but surely getting a plan together for Javier's 40th B-Day celebration, now in Las Vegas instead of Mexico City. Just booked the penthouse for a Wed/Thurs and two 2-bedroom units (sleep 12) for Fri/Sat/Sun nights. Turns out early December is better since I can get all of them much cheaper than two weeks later, and for partial weeks, and for no cleaning fees, and in someone else's name – and with no use of points!
Tomorrow headed home. Got to log in at 9:30 tomorrow and see if I can claim (i.e. pay for) a first class seat… I kinda got spoiled on the way down.
[? ? ?]