With the girls gone from the house, calm returned and all was well.
More leftovers for breakfast as I packed to the return trip home. And I'm leaving behind leftovers, chicken stock for chicken-barley soup, lamb, hunks of chicken… it's a good thing they have guest arriving later today to help them eat all the food.
Lunetta gave me a ride to the BART station – nice. Means I didn't stink up my clothes walking, and it was a bit chilly this morning. I love and envy a city that has decent public transportation (that lets out Seattle and LA).
Got to the airport three hours early – yes, that's even early for me – but it gave me time for lunch, and even more time when the flight was delayed for an hour from the morning fog that tends to roll through the schedule all day – a reason I don't like flying in/out of SFO. Oakland doesn't seem to get the fog like SFO does.
This morning I snagged an upgrade to first class at the six-hour mark. By the time I boarded, every seat was booked in first, unlike the trip down when half were empty. Why pay the $70 upgrade fee – maybe it's the massaging, 35% reclining seat: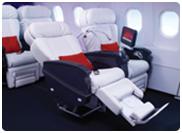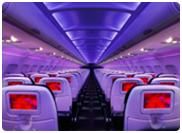 The second picture gives a great shot of their "mood" lighting. And speaking of mood – Erik, the flight attendant (unfortunately in the back) in his birthday party glasses: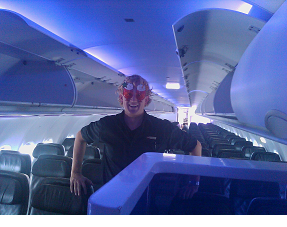 Swung by Safeway on the way home, slim pickings in the clearance bin, but did pick up some essentials.
Rest of the evening was spent (well, it felt like the whole thing) Skyping with Spiral about his 40th B-day celebration. All I really wanted was as yes or no is it going to happen in Las Vegas and who is invited so I can plan my travel to use one of my $99 companion fares (probably with Dancing Bear who can afford to pay half of the total).
Early to bed after a hectic day.
[? ? ?]