Picked up the rental car a little after ten and headed in the direction of Sooke Harbour.
First stop… a Salvation Army… and a strike out.
Next stop… Potholes Regional Park – they are actually talking about geological formations, though the condition of the road matches as well.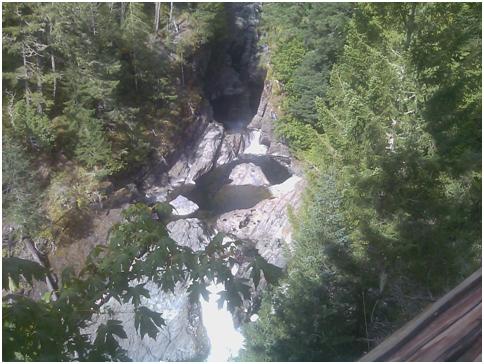 Looks like it would be really nice hiking terrain – if I did that sort of thing.
Next three stops – more thrift and junk stores… one of which was so crammed with stuff I couldn't get down half the aisles. Seem more like a junk barn with a junk yard dog owner.
Decided to go further than Sooke Harbour – turned around at Jordan River – an old logging town. A pretty drive, and I pasted this place which reminded me of Pat who used to run a resort by the same name: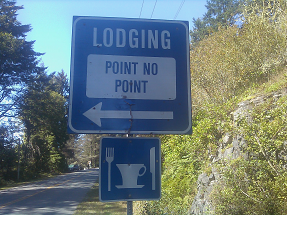 Got the car back around 4, and snagged a ride back to the Clipper Terminal, casting about for an early dinner location. Passed on the Day Inss restaurant from the last trip, looked at a couple of others, settled on Santiagos. Started with the full size order of Ceviche – should have stopped there. I though the kiddy portion of nachos would be the nice little thing to finish the meal – I thought wrong. 10″ plate of cheese nachos with a ton of salsa/sour cream/guacamole on the side. I pity the child that would actually eat that size a portion.
A quick ride back on the Clipper – got there a little before 6 and walked right to Immigration, boat left at 7, and by 10pm I was at home having a cocktail. That might be a new record.
Tomorrow, back to the deck project.
Damn.
[? ? ?]