Checked out of the condo at noon and dropped date off at Safeway – where he works. Swung through the outlet malls with coupons in hand and couldn't find anything that made me want to pull out my wallet… this is probably a good thing.
I took my time heading back to Olympia – stopping at every Goodwill, Salvation Army and Thrift Store that I could find – meaning six extra stops, and lunch.
Got to Olympia about 4pm, Curt was home right at 5 and Rich showed up at 6 – three poker boys for a dinner of steaks, steamed vegetables, bread crudo, and several fine bottles of wine.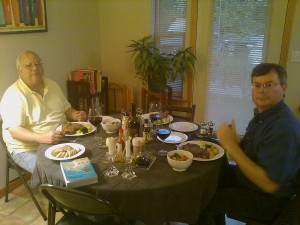 Life it good… since I don't have to drive home tonight.
[? ? ?]