One positive note from this trip. Disembarkation was stunningly quick. From the room, to the sidewalk beyond customs and immigration in under 10 minutes, and most of it was walking.
Now, if they had just had eggs Benedict on the buffet the last day….
I nodded off for most of the ride to Boca… and turned down food for a nap – though the bagels and lox held quite nicely until lunch.
Afternoon of Canasta, followed by meatloaf and pan roasted potatoes for dinner – SOOO nice to have a home cooked meal after a week of Sysco buffet food. Yes, that's what it felt like.
Picking up my canasta skills again, not that I'm sure I'll have a use for them anytime soon.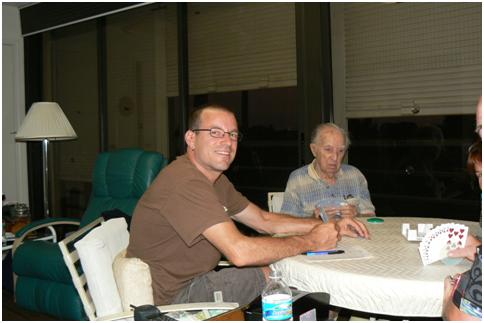 Unfortunately the picture above was supposed to be of the four of us playing canasta – what you get is Dan, his grandfather, my canasta hand and Lisa's eye. Oh well, Dan looks great.
Two full games today – won one, lost won.
Too tired tonight to even have gin after dinner.
[? ? ?]