Up earlier than I'd like, or maybe it was that last martini or two.
By 10am we were in the car and on the way to drop me in Miami near the airport. Baymont Inn/Suites Doral/Airport West. By 11am I was checked in and hanging out in the room all wired up to the internet and everything.
One of the emails to come in was from Barb – my cruise travel agent from Lexington, Kentucky asking for my thoughts on the cruise and the Epic.
My response:
Here are my thoughts on the Epic…..

Entertainment was the best that I've ever seen on a boat — didn't see the "Legends" show (that's the celebrity impersonator show), but Second City (adult 11pm shows), Blue Man Group (good show, glad I didn't pay for it though — sort of one of those, been there, seen it, don't need to see again), and Cirque Dreams and Dinner — definitely worth the up-charge.

But… the food — it all had the feel that it came out of a Sysco can/bag/box. And a rude surprise — espresso after dinner is now at "market price" (of which none of the servers seemed to know what that price was). From my perspective — normally I would order a double espresso with a $10 Cointreau on the side. Not when they are going to charge me an additional $2.50 for the espresso. One of the most telling comments in the singles area was from a woman who regretting that she was at the end of the first week of a two week combo cruise… seems the menu doesn't change from week to week. When I ask her about her favorite cruise line… Princess.

That brings us to service — not enough drink waiters in the bars. Geez guys — with the markup on booze you'd think that they'd have staff hovering over every half-full drink.

I wish Dan/Lisa had gotten the larger stateroom as we all spent a bunch of time there. Maybe I should have offered to make up the difference!

Odd things about rooms range from drawer slides already starting to fail (the ship has been in the water less than 6 months!), and they are changing out all the faucets because of all the complaints about the high neck ones throwing water everywhere (except the raised bowl). Don't know how many rooms affected — at least all the balcony rooms. There are also now those Asian/European master switches by the cabin door that need a keycard in them to get the lights to turn on — two trips to the desk when I locked myself out and I made a folded paper plug to go in the switch.

Let's see — the Single Studio rooms. The website makes it look like it's a HUGE atrium… more like the widths of 4 or 5 rooms. NO MINI-BAR/FRIDGE in the room. For those who like to keep mixers from breakfast cold during the day — that's probably a non-starter for me getting another one of the studios. The website says all the studios are card-key controlled areas… NOT. Well, maybe in a couple of weeks — they were wiring in access pods on the last day. The "living room" is a great place to play cards, and there was a self-service fridge stocked with vegetable/dip and club sandwiches — and there was a FREE espresso machine as well. Bar service in the Living Room is limited to 5-7ish each evening as the "solo traveler" meeting takes place. Didn't ever go to those, but the last night we happened to be there and they were offering free champagne.

And they totally mangled the Friends of Dorothy daily meetings — for the first five days they scheduled it in bars were live music or trivia contests were going on. There were bunches of people who tried to make it work, but it's hard to talk over musicians. Other ships have actually had a staff member who shows up and gets things going at the beginning (and then leaves).

I didn't try the slides — but did talk to adults who did. They really liked them, but the line for the biggest one was always too long (try on port days). Dan and I did bowl — on a sea day, probably not the best for making a decent score, but silly fun none-the-less ($5 charge)

Ship layout poor. The casino was located mid-ship on a deck that you had use to get to the level below where lots of restaurants/etc. were located. The casino is smoke-friendly, which is a nice way of saying a toxic waste zone. One of the two atriums also passed though the middle of the casino, and two of the Asian theme restaurants were adjacent as well…. smoke, and raw seafood. Bad mix.

Disembarkation — stunningly quick — 10 minutes from room to curbside. Maybe it was because we chose mid-ship, maybe it was because we schlepped our non-carryon size bags instead of picking them up pre-customs.

To wrap up: Dan and I had initially planned to do the "cruise deposit" and get a hundred in on-board credit…. that plan went out the window by the second day.

Funny that as I was writing up the review I got an email from NCL with a post-cruise survey.
Lunch at Chick-Fil-A next door, dinner a couple of blocks away at Braseros's Steakhouse. A nice porterhouse and a glass or two of mistakenly open Reverse Malbec (a DEAL for $8). FYI – the website is all in Spanish as they are from Argentina – huge place – not enough people to fill it though. A stunning wine list – they had a 2007 Ridge Three Valleys Zinfandel for $32 – I almost bought it to bring it home.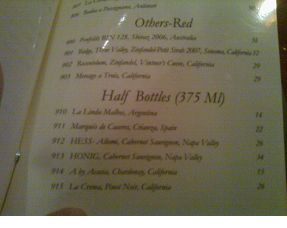 Wake up call for 5pm. Ick. But flight at 8:30am and I have to catch the shuttle.
[? ? ?]