Wow, my first "in-print" travel review – OK, it's a long quote in an article on the WorldMark Victoria.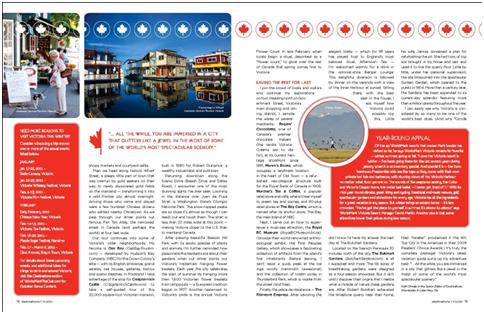 My portion is the red box on the right hand side which reads…
Year-Round Appeal

Of the 49 WorldMark resorts that owner Mark Souder has visited so far, he says WorldMark Victoria remains his favorite — winter, summer, spring or fall. "I love the Victoria resort in winter — I've been going there for the last several years during January when it is on inventory special. And special it is — the two-bedroom penthouse units are the tops as they come with their own private hot tub and barbecue, with stunning views of the Victoria Harbour no matter what floor you are on. The sounds of the seaplanes landing, the Coho and Victoria Clipper horns, the water taxi ballet — I never get tired of it." With its mild year-round climate, great hiking and cycling, theatrical and music venues, golf, spectacular gardens and attractions for every age, Victoria has all the ingredients for a great vacation in any season. But winter brings an added bonus — it's less crowded. "You've got the place to yourself. In summer, it's elbow-to-elbow," says WorldMark Victoria Resort Manager David Martin. Another plus is that some attractions lower their prices during low season.

That's always a nice was to start the day… finding yourself quoted in a magazine that you are reading with your eggs and toast. If you want to read the whole article, you can find it here: https://www.worldmarktheclub.com/destinations/pdfs/DESToct2010.pdf
Headed to Olympia mid-day for the monthly poker game – which I missed last month because I was somewhere else. Oh—that's right, it was at Lake Cushman a weekend early, when I was in the Bay Area visiting Mark and Onyx.
Dinner before the game was a peppered beef loin, asparagus, salad, and because it's Curt's house, lots of wine (like that's different than my house!).
Did so so in the game. Converted change into folding money – now there is room in the container for the rest of the change sitting around the house.
And a moment of silence for my dear friend Jamshed, who passed to the other side at 3am this morning.
[228.7 really need to drop those cruise pounds]