Today's agenda: collect 3400 frequent flier elite qualification miles.
St. Louis here I come – 11:10am flight to St. Louis, an hour on the ground, and back into the same first class seat… with several of the same people occupying the others. It seems that there were at least four people doing the same "turn" or "mileage run" that I was… even some of the same flight attendants. That was their work day, spent with many of the same people. Odd group we are. Reminds me of the mileage run years ago to Walla Walla where 8 of the 24 people on the commuter plane returned on that same plane, 2 of them went to hang out in the Board Room before doing it a second time and picking me up for the final flight of the day. I went wine tasting all day, that was when you could bring liquids on – I had a couple of magnums in my backpack and a double magnum in a box in my arms.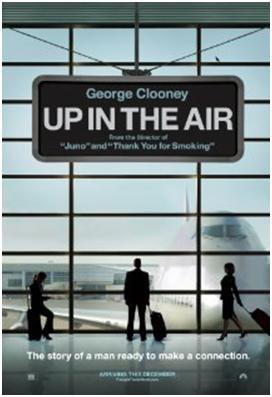 So, the title of this post refers to the movie Up In The Air with George Clooney.
I don't think the movie description on IMDB does it justice: With a job that has him traveling around the country firing people, Ryan Bingham leads an empty life out of a suitcase, until his company does the unexpected: ground him.

It is really more of a tale of mileage, points, and elite status obsession. Personally I like the other plot summaries elsewhere on the site better:
Ryan Bingham is a corporate downsizing expert whose cherished life on the road is threatened just as he is on the cusp of reaching ten million frequent flyer miles and just after he's met the frequent-traveler woman of his dreams. Written by Anonymous

Ryan Bingham's job is to fire people from theirs. The anguish, hostility, and despair of his "clients" has left him falsely compassionate, living out of a suitcase, and loving every second of it. When his boss hires arrogant young Natalie, she develops a method of video conferencing that will allow termination without ever leaving the office – essentially threatening the existence Ryan so cherishes. Determined to show the naive girl the error of her logic, Ryan takes her on one of his cross country firing expeditions, but as she starts to realize the disheartening realities of her profession, he begins to see the downfalls to his way of life. Written by The Massie Twins

Ryan Bingham works for Omaha based Career Transition Counseling whose contracts are in corporate downsizing. In other words, they fire people. Ryan is flying around the US over 320 days of the year, which he feels is the best part of his job. He does whatever he can to rack up frequent flyer miles, the goal not to use them but just to accumulate them to a specific number he has in his mind. A secondary job he has is to give motivational speeches on relieving one's life of excess physical and emotional baggage. He truly does believe what he espouses as he lives out of his carry-on suitcase (his apartment in Omaha is really in name only), he is not close to his siblings (although he does do a favor for his sister while on his travels), nor does he have or want a significant person in his life. Ryan's life may change when the company hires Natalie Keener, a young overachieving woman who recommends that the company change the nature of the work by conducting the "firings" via remote computer access. Ryan believes that Natalie does not fully understand the nature of the business, and as such, their boss, Craig Gregory, suggests that she accompany Ryan on a business trip. Ryan is also trying to protect his way of life, which now includes meeting up with a woman named Alex Goran whenever their flight schedules mesh. Like Ryan, Alex, who he met in an airport hotel bar, is constantly traveling for work, and is as equally turned on the by the concepts of "elite status" or "preferred member" as Ryan is. Written by Huggo

There were moments when I was watching the movie (with Jill, another mileage guru) when it first came out that we just looked at each other and cringed. It was a little too close to our life.
So… that's how I spent my day… as a mileage whore. I was so tired when I got home, I didn't even have the energy to pour myself a drink. I ate my taco truck takeout burrito (which was really tasty, but didn't agree with me), turned on the TV, and went to bed.
[230.2]