It's nice to be working on a project that has some billable hours. I find myself making notes even when I'm not officially on the clock – must remember to charge for those. It also looks like Dan will get some billable time out of this as well – as my technical advisor, though it's probably coming out of my budget (rather than in addition to it).
The non-billable hours were to craft a game table surface for Swanda. When I was at the Catan Club pretending to be the bar maid yesterday I noticed everything slipping about as they set up the board and all the nits and bits. The table is round, so it's perfect for 4-6 people – it just needs a different surface, like felt.
So, after the game I headed to Pacific Fabric, Steel and Iron (I kid you not) to look for some green felt and a bunch of elastic so it could be a removable (and washable!) cover…. And what I found for $4.99 a yard was a rainbow selection of felt-like stuff, including a purple-periwinklish color. Perfect for Swanda.
The first attempt didn't quite work out as planned: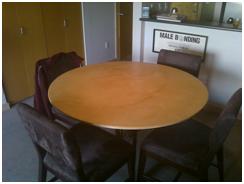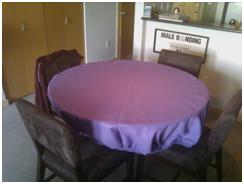 Oops, it looks like a loose fitting condom. Back to the drawing board. If at first you don't succeed, try it again, Sam.
After the disastrous felt fitting it was off to meet Jill at the Palace Ballroom for a Manhattan Experience sponsored by Esquire Magazine and Woodford Reserve Bourbon. Wow – nice spread, since the Palace Ballroom is part of Tom Douglas' (Dahlia Lounge, Palace Kitchen, and several others) empire, I knew the food would be good. Everything had bourbon in it – the bacon biscuits, the mini-monte cristo sandwiches, even the milk shakes! Loved the bacon fennel fritters and the lamb dish (though that was a little messy for a cocktail party). Each guest got tickets for three manhattans of your choosing – since Jill has a 9:30am class, I got her last coupon. Thanks Jill!
There was a silent auction to benefit the Culinary Institute of America, a Manhattan making contest with 4 or 5 local bartenders, including from Barrio – the restaurant that Swanda panned as way too noisy – I'm surprised he didn't rake it over the coals on Yelp, TripAdvisor and his blog. But I digress… here are a couple of crappy shots from the evening: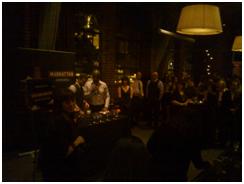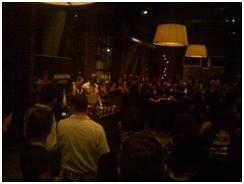 At the end of the evening they had some really nice take-aways…. Recipe books printed on coaster stock, and big, pretty posters – I grabbed a couple of sets.
Got home around 9pm to work on getting my buddy Joe up here for a long weekend that includes the plant floor tour or Boeing's 747, 767, 777 line and a catwalk tour of the new 787 line. Here is the program:
1:30pm – Arrival and check-in, network.
2:00pm – Presentation by Boeing Historian, Michael Lombardi.
3:00pm – Pick up special gift and shop at The Boeing Store and Future of Flight Store.
3:30pm – Boeing Theater, movie then take a motor coach past the flight line at Paine Field to the Boeing Everett factory; VIP walking tour of the 747, 767, 777 assembly lines. View 787 Dreamliner from the tour balcony.
Please note: no cameras or electronic devices of any kind allowed in the Boeing factory. However Boeing will be taking photos of our group during the tour. All participants will have access to the photos afterwards.
5:30pm – Return to Future of Flight for gallery tour and demonstration by Laser Motive.
6:00pm – Light dinner, beverages and prizes.
Not bad for a $20 ticket (Geekfest) And I have a little surprise for Joe on Sunday… but just in case he might read the blog… won't post until Sunday. Needless to say I spent two-thirds of the money he paid me for the direct ticket on Alaska. Oh well. Guess that means it paid for my condo in Hawaii rather than the airfare.
[230.8]