Work in the morning for two clients, 7Rad and Bluetoad Design, followed by ripping all the elastic out of the "table condom" and hacking about 10″ of fabric off the circle… and re-sewing the elastic back in. End result: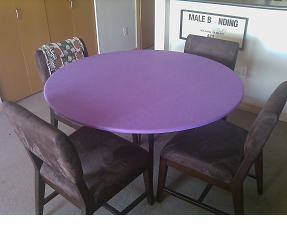 Now THAT is how it is supposed to look – makes me want to make one for Curt's table even though he has a green permanently mounted one… it could be a different color – and it would be removable for cleaning!
While I was in the neighborhood (again), dropped the car off to get it washed, then went to the apartment after grabbing lunch, then to the train station to pick up some tickets, and ran into Anne (I used to work with her at Science Companion) and her friend heading to lunch. They had time so I showed them the courtyard and the apartment – making Anne's friend really jealous since they work across the street – though their office is moving to South Lake Union next spring.
The other item on tap for today is entering Woodford Reserve's Manhattan Recipe Contest. Here is what my entry is going to be:
Uncle Markie's Old Fashioned Manhattan

3 oz. Woodford Reserve Bourbon
1 oz. Vya Sweet Vermouth
½ oz. Vya Dry Vermouth
2 dashes Peychaud's Bitters
2 dashes Regan's Orange Bitters No. 6
2 dashes Fee Brother's West Indian Orange Bitters
Add ingredients to a stainless steel shaker filled with ice. Shake, strain into stemmed martini glass. Garnish with an orange twist.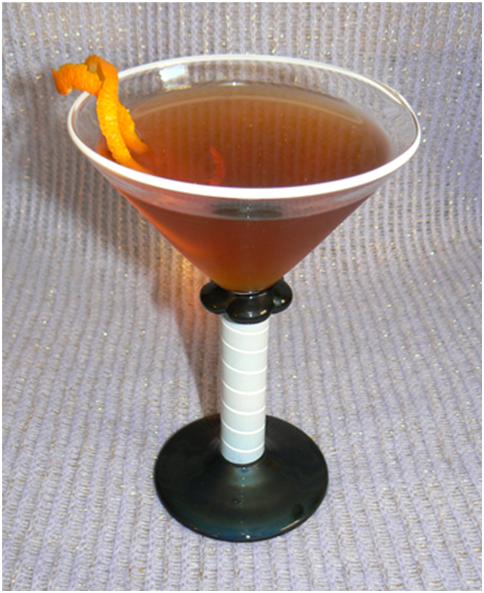 Damn – that's making me thirsty, guess I'd better turn on the icemaker. Speaking of the icemaker, order two replacement kits for the ice scoop – seems that they break about every year and a half… I got the machine in 2005 and this will be the fourth set about to go in. At $5 each (plus shipping of $2) it's not too bad a maintenance part – cheaper than $189.00 for a new one! And hopefully they will be here by the weekend when Joe arrives.
A quite dinner at home of some beef, a baked potato, salad…and a long talk with my former broker… interesting when a broker resigns a firm because she has ethical problems with the business model. Anyone who needs a full-service broker, talk to me, I'd highly recommend her.
[230.1]