I know you all have heard the rant… early flights, so I won't repeat it other than to say 6am puddle jumper to Portland – slept all the way.
Small layover time so it was the long walk from commuter right onto the plane bound for Honolulu that was already mostly boarded.
And back to sleep – they woke me up for breakfast thankfully, and then it was back to sleep again. I was so exhausted from Joe's whirlwind weekend that I didn't even have a cocktail until 4 hours into the trip when they brought around those freebie MaiTais – which I took if only to remind myself how much I dislike them. Damn those things are sweet – I finally cut mine in half with some soda water to get it down.
But, as I back up for a moment – the oddest thing happened at the airport checking in… again (just like St. Louis a couple of weeks ago, and Boston last January), the agent didn't take my upgrade coupon even though I had it out and ready to go. The only thing I can assume is that there were actually gold upgrade seats still available on the Portland flight, but I'm not exactly sure how I'm going to be able to use them in the next two months since the Las Vegas flight with Mick is already in First Class. And that reminds me that I have to start getting some dollars/commitments out of those birthday travelers – or cancel the second room (or add a third) since we are at 6 weeks out.
Back to Honolulu… disembarked much more rested and headed to the Delta Crown room for an early lunchette and a couple of cocktails while reading the local papers, catching up on email, and basically killing time waiting to the condo to be available for check-in. Left there noonish and caught the city bus into town ($2.50 and 75 minutes). Needless to say, the condo (not a WorldMark but an affiliate… Vacations Internationale) wasn't ready, and wouldn't be until four.
Wandered around for forty-five minutes in the occasional misty downpour (think mist blowing at 20mph) looking for a place to eat. There is an L&L just a block from the condo, but it's cash only (and I'm down to $3, plus the emergency $100 rent-boy bill), and the bank was all the way across the street, so I just kept walking, finally ending up at Cheeseburger in Paradise – well, at least it's a Hawaiian chain, and the cheeseburger was REALLY good, as was the Mojito. Really I was just looking for a place to sit down, read the New Yorker from September 27th, and kill some time.
Got checked in at four after killing more time reading in the lobby – here is the view from the deck (lanai) southwest towards the ocean. Straight south and you can see chunks of Diamond Head.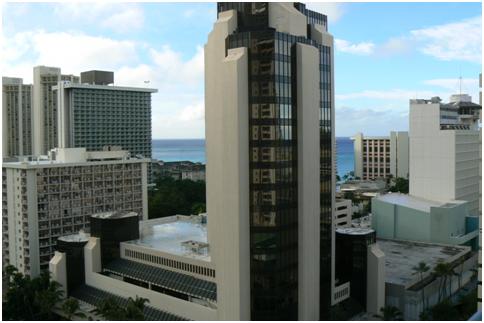 First order of business was a nap, second was heading four blocks south to the Food Pantry – a full-size grocery store which was defiantly cheaper than the ubiquitous ABC or Whalers General Stores that seem to dot every corner. $52.00 later we have:
Ahi Poke
Tako (octopus) Poke
Whole chicken for roasting
Lime (for the chicken cavity)
Tub of Japanese cabbage salad (sort of like a non-spicy kimchee)
Bottle of Jameson ($15.99 marked down from $32.99)
Liter of caffeine free Diet Coke
Bag of "everything" bagels from Einsteins
Tub of cream cheese
That would be dinner for two nights, breakfast for two mornings, and snacks in-between. Ate the first dinner after 8:30 and was in bed by 10… still exhausted, and now on a time zone three hours off my own.
[? ? ?]