I love it when inspiration takes over and creates billable hours. I just wish I could show you the result – sent it off to the client, and the project is still under wraps. I also have a concept for a placeholder site until we get product shots… of course now I have to figure out how to spin a logo in 3-D.
Plans for Vegas getting firmer…. Need to start collecting money from people for lodging! Speaking of lodging, looks now like we are split between two of the three WorldMark locations in Las Vegas: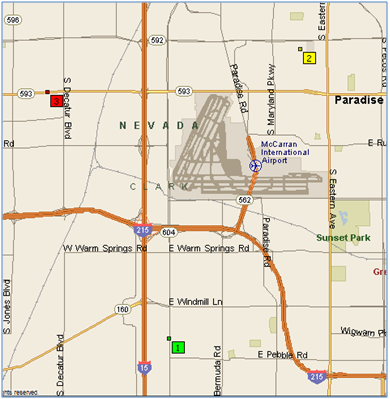 Luckily we will have a couple of rental cars – and I'm still trying to get us all into the one resort. That would be number one of the map.
Dinner with Mick this evening… a roasted chicken on a bed of potatoes and onions… why chicken? I am running low on chicken stock – and I use a fair bit of it with all the bread baking – yes, there is chicken stock in my bread, makes it richer.
Spent the rest of the evening changing operating systems on Swanda's old box in an attempt to make it run a little more stable. Cheaper than buying a new one.
[229.0]