Hello Daylight Wasting Time! I actually remembered to set most of my clocks back – except for the two that I happened to look at in the morning… my wrist watch and my MSFT 5-Year Seiko…. And thought I'd slept in until 10am. Silly rabbit.
Declined a breakfast invite from Mick, who got cancelled on by Swanda but still wanted to try out a new place in Rainier Valley….I had packing to do for the trip to Vancouver (and as it turned out still forgot a ton of stuff, like Canadian money, a clipping, the condo confirmation).
Left the house at noon – one motorcycle in front of me… which I think really wasn't a Nexus card holder since he had to show documents, but still managed to be at Safeway shopping for groceries and wine by 3 and to the condo a little before 4.
Oh what a mess they have made of Hornby street – they have removed one lane to create an Amsterdam style dedicated bike lane. Talk about a traffic mess.
That's not all that has changed here at the WorldMark at The Canadian….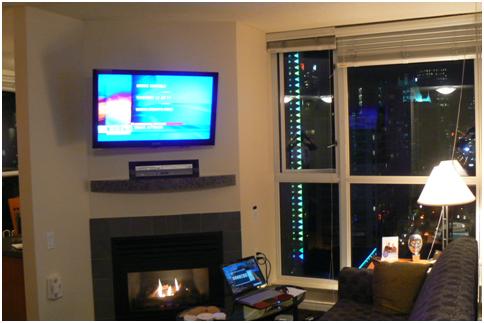 New carpet, paint, honkin' flat screen TVs in both living room and bedroom – the new furniture arrives in January according to the front desk. Speaking of the front desk, they no longer ask for ID… seems I've been here enough that they now recognize me.
6pm brings the call from the front desk… a bit of stuttering as she says "Father Gilbert is here to see you." I guess they didn't realize I often had priests visit, but he was in full church drag having just come from a service.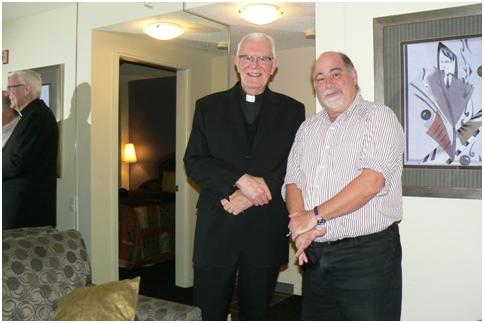 A lovely dinner of lamb, baked potato, salad, and sacrament. I'm thinking about joining him in Iceland in March for part of his 7 ay trip.
Good food, good conversation, what more can you ask of a priest.
[227.5]