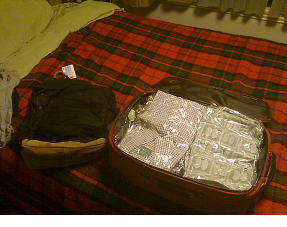 It looks so small… 11 days in Thailand. Rolled and wrapped all the t-shirts, socks, etc. Electronics in the day pack. Still looks small. Reference is that's a double bed and the suitcase is smaller than a carryon. Wow.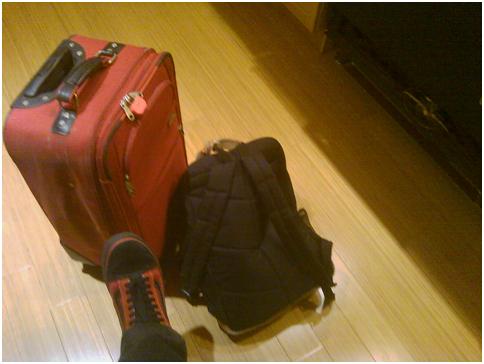 I can't believe that's 11 days worth of stuff. The shoe is for reference. It's a 10.5.
Lots of billable hours today – didn't get the website launched today… but did get the new logo posted on FaceBook. Check it out at:
http://www.facebook.com/photo.php?fbid=130653760321326&set=a.130653756987993.33500.128761587177210

Been playing with it for days – and since it's on FaceBook I guess it's OK to share it. Still likin' it.
Gotta go to bed. It's a mid-day flight, but an early check-in.
[220.7]