Forced march today begins with butts on bus at 7 after bags out at 6 with breakfast sometime in between. The reason… a seriously FULL day.
First stop, the floating market 90 minutes out of town — a least there is a little nap time on the bus. Long boat rides from the bus stop to the market — passing through narrow canals dug in the 1900's. I need to look up the James Bond movie that was filmed in Thailand using lots of long boats. The market itself a mass of humanity, mostly tourists it seemed to me. A couple of hours at the market (both sides of the river), and there was a huge traffic jam in one of the canals that thankfully we weren't involved in.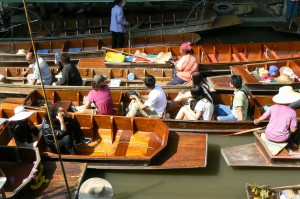 Next stop was the largest temple in Thailand — where they run prayers up to the top on a pully system, and there are enough vendors of food and consumer goods that it warranted more than a 30 minute stop. I'll add it to the list of things to come back and spend more time at on another trip.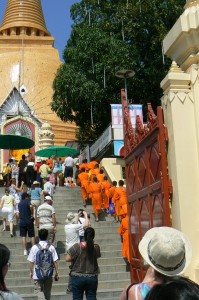 One of my favorite food stalls was the stall selling fried bugs.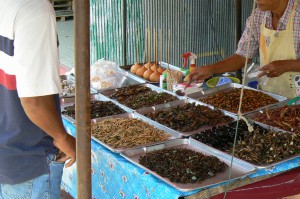 Yin, our groups purchaser and eater off all things odd, bought two bags of bugs — silkworm and mealworm — I think I liked the silkworm better, of course, you could fry shoe leather and I'd probably like it. I think our other guide Eric tried one of the grasshoppers — which I would imagine would be like eating the deep fried shrimp head left over from making sushi that Dan taught me to love.
Another reason for more time at the temple (Fluffernutter has some great shots from the tunnels under it) would be to have a lunch stop… as the bathroom/Kwikie Mart stop an hour later really wasn't enough of what I would call "real" food. Flip side — if you are advising people to be careful about street food, and then have them eat street/vendor/stall food for lunch… yeah, it's an issue but damn that chicken satay looked good, and the duck, and the….
A restful 90 minutes back to the city to the SkyTrain terminal — destination, the Weekend Market — which Fluffernutter and I went to 15 years ago. Getting 40 people to move in the same direction at the same time is pretty much like herding cats. Now add public transit. I like that it is part of the itinerary as it gets us out of busses and into the way the city really works (or now that it does since the Skytrain started in 1997 — wasn't hear when Fluffer and I were here 15 years ago… they were just starting to build it).
So, Weekend Market. Huge. It really requires a map to get around it, and not get lost. I didn't have one. I was looking for license plates… which would probably be in the "antique" section — since they didn't have a "junk" section, but on the map (borrowed) it was half way across the warren of small alleys and shops… all I found was clothing and shoes and the stink of masses of humanity and open sewers. Guess that means I'm willing to pay a little more before the trip is over.
 
Next transport — the subway (2002 vintage). Man this city is easier to get around from the last time I was here. Still huge… just less need for motorcycle taxis. Off to the train station for our 7:35pm train to Chang Mai — when our itinerary was printed it was a 6:00pm train that got in at 7:30, now it gets in a 9am.
NOT. Small fire for smores, or other problems with the other 2nd Class Sleeper Car with air-conditioning. Delay — two hours. No problem, we all have dinner boxes, and lots of booze (and for me, two bags of ice and cups) to pass the time. Some of our group have been to the KFC and are passing around buckets of chicken — for once I am jealous, KFC is a weakness that goes denied 99% of the time… I just had a couple of nuggets while eyeing Fluffernutter's drumstick (that sounds DIRTY).
At 10pm (by Thai Time Standards) they came around to convert our seats into sleepers — for those Amtrak roomette folks — same thing, no wall. So much for the single supplement. At least it was Fluffernutter.
By this point — we had had a two hour delay, drunk lots of booze that we all brought on (Vodka, Tequila, Scotch, Rum, mixed drinks, the lot). This group is fun when it loosens up a bit!
I pity the monk (complete with saffron robes) and the other folks who were in our car… I think we could have filled a complete car (not for next trip — reserve car) since some of our folks were in the next car. Having said that… Thai Rail, well, we will leave it at that. We were a noisy bunch who really needed a full nights sleep.
[96 kilos!]