Well — can't say I slept the best last night. Should have taken an Ambian. Nothing like a rocking dormitory.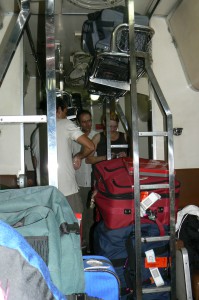 And then there is the luggage crashing down through the night and then the early risers.
Still glad we did the try over flying or a motorcoach, but the expected arrival time of 9am moved to 11am because of the schedule change, and then to1pm because of the delay leaving Bangkok, and then finally to 3:30pm after delays through the day…. my favorite being the guy having to walk in front of the train applying something to the tracks to we would have the traction to make it up the grade.
What did our lovely group do to handle the situation… they broke out the tequila at 10:30 in the morning, and then the vodka, the beer, the scotch, the snacks, the board games and cards, then started ordering food from the dining car which was probably the best "train food" I've ever had.
What did the tour staff do about the delay — lemons into lemonade. After our tardy arrival in Chang Mai they gave us an hour to shower, and then arrange truck transportation and a walking tour of three wats (temples) followed by a trip to the night market. Other than the latest of getting food in my system, Wat a grand plan — the the night market was so much less crowded than the Bangkok market so I actually got some shopping done. Very little —  set of nines for Salamander (that's domino talk).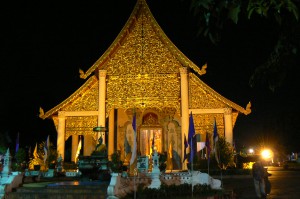 Back to the hotel for a quick nightcap with Curtis and a little blog time before bed. Will have to finish this post down the road… sorry, no pictures, not enough time left in the day.
[? ? ?]