Man, this butt on bus at 7am has to stop. And it was even worse this morning — trying to get yesterdays post up, even without pictures, get packed, find a cash machine, stock the pack with snacks incase it's another day of "odd" meal schedules.
Our next stop — the Lisu Lodge, a truly wonderful place — you could just leave me here… but no, we are off for:
mountain bike ride (I declined)
elephant camp tour (I accepted)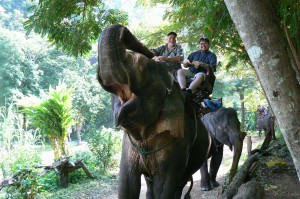 box lunch by the river (duh — and HUGE, both full Thai and American lunches — lots of leftovers to stock the pack with) before heading back to the lodge for a couple of hours of free time (finally) before dinner at 7pm.
And what a lodge it was….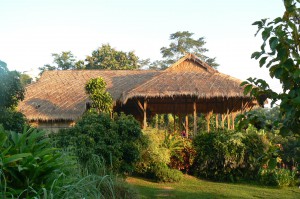 After a shower, it was time to set up the bar. We have a mission tonight… finish the bottles of booze so I'm not over the size/weight limit for tomorrow intra-Thailand flight.
Got to dinner late — yes, which means a bunch of the booze was gone, and was joined at the table by one of the most manipulative, coniving tour members that I have ever met. That put my appetite off — which was good since we were late and the food hoovered. Not a problem… we washed what was left down with a Thai Chenin Blanc — which was better than I was expecting, and nice to support a new industry in Thailand.
The rest of the evening was spent trying to drain all the booze so that it doesn't have to be packed and take up valuable intra-Thailand weight allowance. Big fun hanging out on the deck wiht the girls drinking and telling stories.
[? ? ?]