I quote from the original trip description…
"Morning at leisure with breakfast provided we return to Chaing Mail for our flight south that afternoon as we transfer to Koh Samui."
Wow — BIB (butts in bus) at 7am… leisure.
Much herding cats to get us all and our luggage to the airport. Flights on time, and a bonus treat of time in the airline lounge between flights — free wi-fi, computers, snacks — I wish they had made an announcement that this was an "extra" provided for the tour, and not standard for budget travel in Southeast Asia. I appreciated it, others were grumbling about flaky internet access… hello, free.
By 4pm we were at the hotel….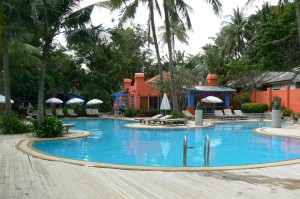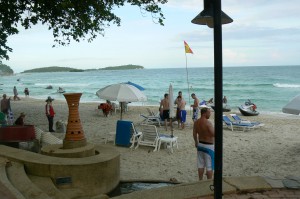 Had a Long Island Ice Tea during happy hour, Went for a dip in the ocean, went shopping across the street at the most fun Kwikie Mart I've seen in a long time. First trip was for ice, rum, mixer… the second for smoker's toothpaste and more dominos, and might have to get some things from the electrical section.
Dinner with Curtis — pasta Alfredo with chicken for him — I wanted the "Rip Eye" steak, but they were out, had to settle for the T-Bone — at least one portion had a little pink left in it.
Luggage shopping on the way home. Curtis and I both need new bags.
And tomorrow's BOB… 6:40am — god help me.
[? ? ?]