What a luxury to wake up at ones own pace… today that was 8ish for me, not unlike at home. And a wonderful sleep it was, one where you are worry free about missing a flight, a breakfast, whatever.
Today's funny story… I'm at the salad bar (which also holds the cheese and cold cuts) and this German tourist says to me… "The Americans, they have not learned to speak quietly"… and we all know who he was talking about. My response, "Yes, I know, she's in my group… imagine that all day." That made him chuckle — probably in pity. Amazing to be able to annoy German tourists, who have the world's worst travel reputation as being loud and pushy.
And speaking of tourists — Americans are in the minority. Aussies and Germans make up the largest contingent.
Spent part of the day walking the main drag with Fluffernutter looking for suitcases for us. After a lunch at Burger King (yes, I was with Fluffernutter) I had to have my picture taken in front of the McDonalds across the street.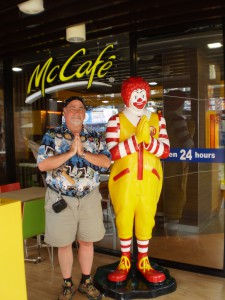 Even Ronald is culturally sensitive.
The afternoon was spent hanging out in the air-conditioning. The morning rains had turned to sweltering afternoon humidity. Time to catch up on the blog, upload photos to the netbook, and start the packing process now that I have a new suitcase.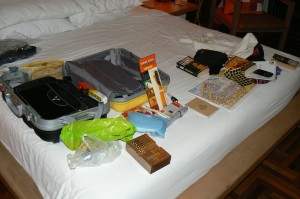 A couple of cocktails with the girls while they were getting ready to go out for the evening — and I got last nights orders totally wrong. Fluffer had the lasagna, Natasha the calamari and pizza and salad for the other.
Tonight's dinner was at the restaurant downstairs. Avoid the oysters — they were the size of softballs and bland. The filet mignon was actually medium rare (order rare in this country) and looked much better than Fluffers T-bone so I gave him half of mine.
A little more packing, but it will really won't happen until the morning. Guess I'd better start figuing out what I spent on trinkets for the customs declaration.
Travel day tomorrow.
[? ? ?]