Why was I up so early? Really, 6am… the alarm was set for 7. Just couldn't sleep with the excitement of a road trip.
At Swanda's by 7 (half an hour early) and out the door an hour later in Rob's honkin' Suburban which should be named Big Blue.
A stop at duty free where I got my punch card filled (meaning that my 1.14ltr of Alberta Springs was $5) and then onto Squamish for lunch at the White Spot.
The digs in Whistler are a 3-bedroom suite – tonight it's 5 of us in here: I'm sharing a room with Swanda tonight), Rob and Jodie in one of the queens, and Swanda's sister in the other. Tomorrow she moves to a private room, Swanda moves to the queen and I have two beds to myself.
After we got settled, it was off to the IGA for a grocery run. FYI – 5pm is the wrong time to go to the store if you are in a hurry. If you are there to look at the snowboarders… well, then you are in luck. Many bags of groceries we are out the door.
I'm doing tonight's meal (and breakfast tomorrow) which is a standing rib roast – damned expensive up here in Canadaland — $49 for a four pounder, ouch. Add some roasted vegetables in the bottom of the pan and a salad on the side and you have a meal. Thanks Rob for the two bottles of wine. Yummy.
The main event for the night is watching Jodie make the Jello shots for Black Friday.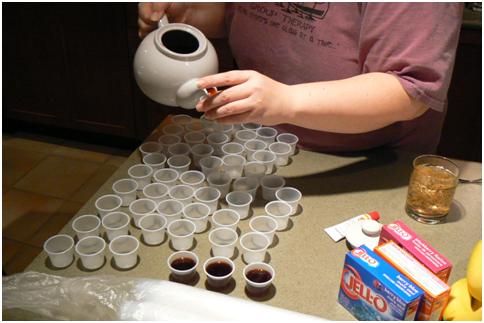 Nice to have the view of the village at night. I'm staying in, but Rob and Jodie head out for after dinner drinks. Just can't imagine it.
[230.5]