Grab and Go breakfast (coffee, yogurt, bagels, etc) starts at 6:30am
Hot breakfast starts at 7:30am – egg casseroles this morning, along with oatmeal and all the other grab and go stuff. And bloody maries for the chosen few.
What a lazy day – I didn't leave the room except to get more ice from the machine. Lunch was leftovers from breakfast, and the Aprez Ski (after ski cocktails[byob] and appetizers runs from 3:30-6:30pm… today's theme, white-trash cooking. Think spam and velvetta squares, mini hot dogs crockpotted with grape jelly, ritz crackers, kool-aid as mixer, you get the idea.
Here is a great shot from the balcony this morning showing the 8in of new snow we got last night.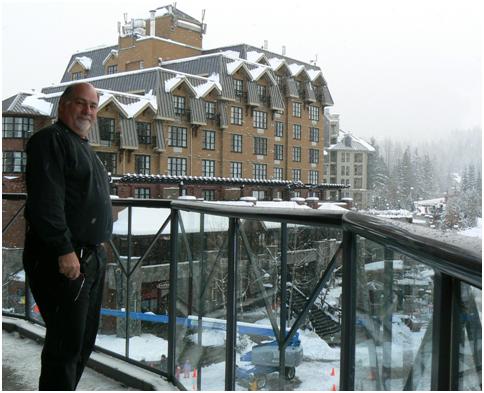 And if you want to see all the pictures so far, here is the "WonderBar" from Twango:
The plan for dinner tonight was at Barefoot Bistro – where I'd eaten before with Curt and others. That was the plan – until I lay down for a nap at 7pm and didn't get back up. On the bright side, I saved at least $100 (turns our more like $135 with the wine), which I can now spend on cooking dinner for the gang tomorrow night.
But apparently burning the candle at both ends for weeks on end has taken its toll.
[? ? ?]