Snow on and off today… and the shovels start going at 5am to clean the pedestrian streets of the village.
French toast was the "hot breakfast" this morning. Really nice since it used that Canadian grocery store oddities of the double thick bread.
My after breakfast dip in the tub: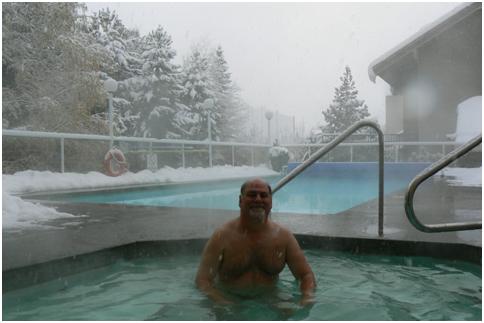 Hot water with chunks of snow from the roof dumping into the tub periodically.
Lunch was the leftovers from yesterday's breakfast… still good. The afternoon spent hanging around the suite looking out at the snow – with a shopping trip for dinner supplies for tonight. It looks like I'm cooking for eight. Got some odd things in addition to the groceries: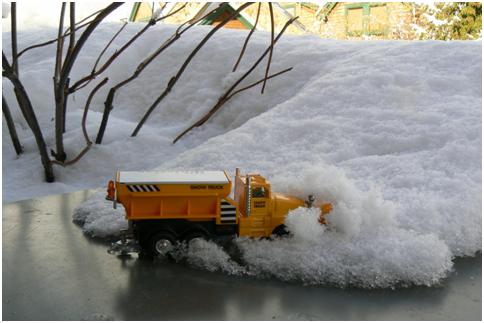 Yes, I bought a souvenir Whistler snow plow. The shot was taken on the balcony. And when Aprèz Ski rolled around, two of the club members managed to Hoover an entire tray of Jello® shots left over from the party yesterday…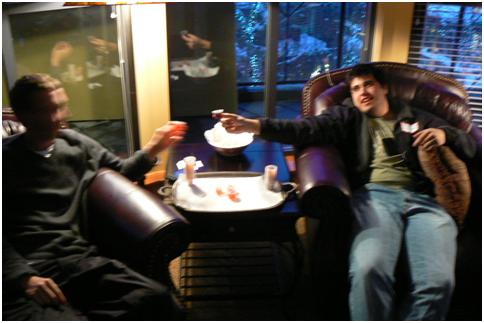 It's blurry, but so were they after 32 shots by the guy on the left, and 27 by the guy on the right. The non-blurry photo is in the photo gallery link from yesterday. Or at least it will be soon.
Dinner was grilled wild salmon steaks (with Cod for Jodie), asparagus with hollandaise, salad, Texas toast and a couple of bottle of wine from Rob and members.
What a wonderful time – for tomorrow we leave.
[? ? ?]