Up at 6 for some unknown reason… at least that means some billable hours before MoonSong comes to clean and take a look at my kitchen sink drain which has been dripping water. With me being out of town, it should be fixed by the time I return. Yahoo!
Mick arrived a little after 10 for the run to the airport – MasterPark here we come – he ride having fallen through. I have coupons so no worry.
Boardroom for breakfast for Mick and snacks for me… nice to be sitting up front on the flight courtesy of the $99 companion fare which works best if you book one in First Class, then add the other for $99 and split the cost between the two people. End result = $400 each round-trip in First Class.
Thank you Honda for sponsoring free wi-fi on Alaska flights until December 9th – may you extend it! I never get my laptop out during the flights – that's my reading time. But if it's free, I'm all over it. I actually got a little more billable time in (yes, that old drumbeat of $$$ for this deadbeat)
And since I had the laptop out, we have a picture for today: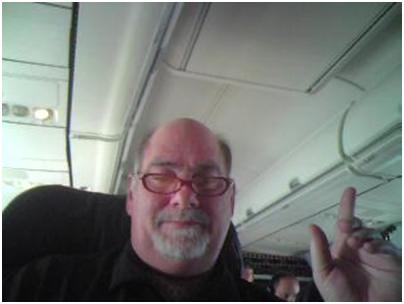 That would be from the camera on the laptop. High-tech fun at 37,000 feet. Mick was even using www.FlightTracker.com to track our progress during the flight.
Arrived in Vegas to the hell of the "Rental Car Center" and the wretched shuttle. The Thrifty deal I signed up for was what they call the "Wild Card" deal – same price as a compact and they give you whatever mid-size and above they have on the lot. We ended up with a light blue Gran Marquis (leather seating for 6 medium-sized people)… apparently yesterday they were giving out mini-vans, which would have worked for us just as well since we have 15 showing up for dinner on Saturday, and around 10 people the rest of the time.
Got to the condo at 3:45pm – the 3-bedroom "penthouse" was ready and waiting for us. "Penthouse" is in quotes because it's not exactly what I would call "penthouse" quality… maybe it's just that it's Vegas and everything is cheap and tacky.
Speaking of cheap and tacky – shopping for groceries at the Food4Less down the road was a truly cheap and tacky experience. Luckily all the stock boys were young and pimply emo types (for those not in the know….EMO, short for emotional – dyed black hair, not quite goth, but usually twig skinny nerdie boys)
Settled in for the news and a steak/baked potato/salad dinner with a lovely Pinot Noir. I'll have to shoot a quick video of the condo for tomorrow's posting so you can see the "odd" furniture choice/placement.
Off to bed.
[231.0]