I don't know what's up with this getting up early without an alarm… it my body still on Thailand time?
As promised, here is the video of the 3-bedroom penthouse:
Not bad, just not as nice as I'd like.
Used the leftovers of steak and potato in this mornings egg scramble that followed the traditional bloody maries.
Off to the airport at 11:30 to pick up Dan and Lisa, Javier coming in at one, but going directly to the strip to have lunch with friends before I pick him up at 4. And his mother's best friend, and more….
Travelling geeks, this photo should be called: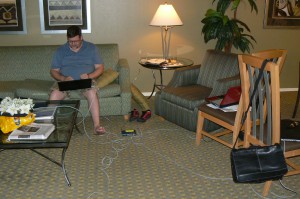 Note the 4-port router/switch from Boeing, complete with cords running to all the chairs.
Dinner tonight was venison cube steaks in this spicy chili sauce that Javier brought the chilis from Mexico, combined with garlic, tomatillos, onions… seriously spicy, but nice and fresh. Fresh aspargus, steamed, salad, wine, conversation.
All is good.
{? ? ?]