The Kittens were on many paths today….
Dan, Lisa and I had breakfast in our condo before my 11am owner re-education seminar for $75 – they offered $50 and I said that I didn't do it for under $75… and it worked.
Javier and Salvatore slept through breakfast, but as they only have protein drinks in the morning, it's not like they missed anything.
The boys in the other condo were starting breakfast as I was headed out.
Afternoon activities were upscale outlet mall shopping for The Kittens (as in herding kittens – which is what you have when a group gets to a certain size), vegetable shopping and a visit to Lisa's mother/step-father, and the low-rent Disney outlet and Fry's Electronics for Mick and I.
By 5pm everyone was back for the 6pm dinner in the 3-bedroom condo we snagged for the big dinner night – 3-bedrooms means more dishes, i.e. less to move from building to building – and with Rob and Ruben showing up from LA, it gave them a place to stay as well – damn handy!
The meal was peppered beef tenderloin, boiled new potatoes in parsley, roasted brussel sprouts, salad, and oh, just a little wine.
By 8pm The Kittens were out the door to see "O" at the Bellagio – me, the one that dislikes crowds, the Strip, well, and most of Vegas for that matter – stayed home and cleaned up, got dishes running, and more importantly, got the right number of dishes back in the right condos – seems a bunch of glassware moved between 10201 and 10202 – the side by side condos where most of us are staying.
Here is the great group shot of the event: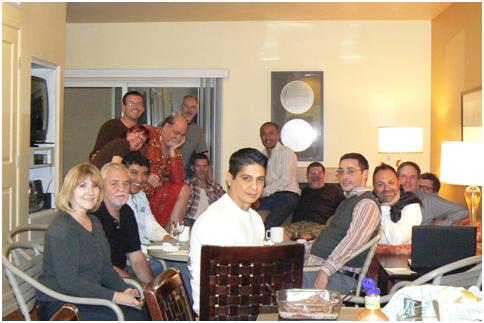 Happy Birthday Javier! Viva Las Vegas!
I must say that it was nice to have the rest of the evening free….some quiet me time. You never know you miss it until it's gone.
[? ? ?]