What a lovely relaxing morning with Bloody Markies followed by potatoes with Italian sausage and eggs. Yum.
After breakfast it was off to yet another "Owner Re-Education" session where once again I get to say repeatedly, "No, I don't want to buy anymore points." Followed by "Thank you very much for the $75 AMEX Gift Card." Spencer and David went for a different presentation, but for only $50 (though I think I get 1000 points because of the referral), and theirs was more like two hours and three salespeople later before they let them out of the salesroom. Of course, they had to explain more of the "wonderful benefits" of ownership.
A lazy afternoon of nibbling – and no appearance by the sorta BF… working, and with the wind and the rain and his job, feeling like a sick drowned rat.
Some of the boys went out shopping and exploring – me – I stayed inside warm and dry. It was so windy/raining that Rich went to the parking garage to smoke! Needless to say, I couldn't keep the BBQ lite (or the fireplace for that matter), so the steaks…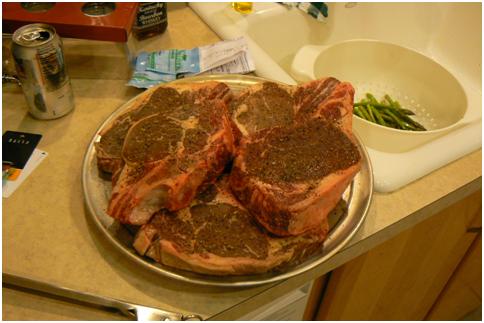 We done inside under the broiler…. And I'm afraid we didn't make much of a dent in them…
A movie after dinner – Stolen – not bad, but glad I didn't pay retail theatre/rental prices for it. We've got several more coupons to go through should we want to try something else.
Not sure if we are actually going to play poker this weekend since we only have four people.
[? ? ?]