My view: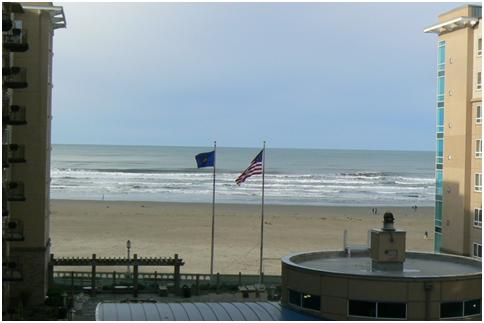 The place I drive by in Astoria that I would love to buy and restore:
It was the Finnish Sauna from 1928… with a diesel fired furnace, which I'm assuming is dead. Anyone up for a $249.000 sauna in Astoria. Apartments upstairs. Tempting.
http://www.loopnet.com/Listing/14865967/285-W-Marine-Drive-Astoria-OR/
I'll swing by in the morning to do an outside inspection before I put out the call for investors…. At least I have a good history in real estate.
No time with the boy today… but lots of billable hours. Funny how my billing goes up when I'm in heat. And how much more productive I am. It doesn't help that there are like two soccer teams staying here. I can hear the cheerleaders at 7:30 at night shouting Christmas carols by the pool – and I'm at the far end of the resort.
A quick trip to the Safeway for a steak (and about twelve others that were in the 30% off rack). Looks like I'm packing meat (as opposed to heat) on the way home.
However, the grill did work now that the winds have calmed down.
[? ? ?]