It's a good thing that I don't give a rat's ass about all this travel grief – roll with the flow. Here is the score card for today:
Wake-up call came on time: +1
Hot breakfast provided by hotel: +1
Shuttle available to go to train station rather than airport: +1
Evening dinner guest cancelling – turns out he's in Phoenix with family: -1
Wi-Fi on train working: +1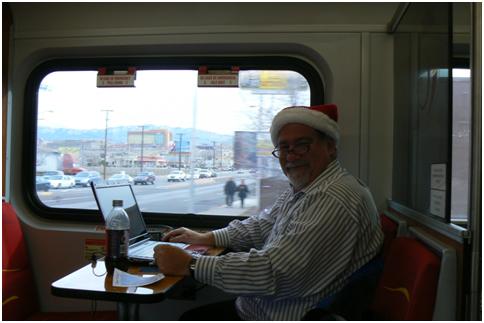 Train on time: +1
Room ready at 12:30: -1
Lunch at Bumble Bee's Baja Grill: +1
Room ready at 1:30: +1
Great condo: +1
Afternoon nap: +1
Cheap liquor store (CVS) within walking distance: +1
Billable hours: +1
Bolgogi and Kim Chi for dinner, take-out from across the street: +1
Tomorrow's dinner guest not cancelling even though he'd like to move it out a day: +1
Juvenile movie none of my friends would watch with me: +1
More billable hours: +1
WOW – a 15-point day. Not bad.
And I get to sleep in… maybe tomorrow night as well!
But as I settle in this evening… I am reminded of last Christmas in this same condo complex, then the Colonels were at a condo complex close by, and snow was in the air…. that means it's been a year since I've seen them and I need to do something about that. Maybe Galena in early March, but I'd have to get a two-bedroom rather than the one-bedroom I have reserved.
[? ? ?]