Damn I hate that Amtrak LA connection…. When the dining car breakfast service runs from 5-6am… that's just not good. Thank you Rashid for bringing me breakfast in the cabin, and thank you to the rest of the sleeper car folks for not being in the shower when I needed it.
Before I forget… here is a totally humorous screen shot that I put on FaceBook (Mark Stephen Souder) yesterday: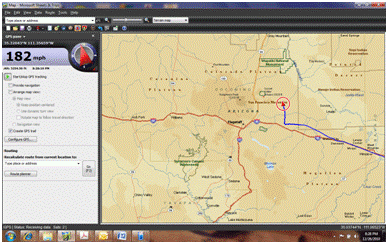 Yeah – Amtrak doing 182 miles an hour through the desert. In my fondest dreams, as they say. The vagaries of GPS.
Got to LA sometime around 8am – I was tired and clueless, except for where the lounge is for the Sleeping Car passengers at Union Station which oddly enough, doesn't open with the arrival of the Southwest Chief but at 8:45… like I need more juice and coffee. An hour later we are on the train… with the red cap ride to (and from, earlier this morning) in their electric cart since I'm laden with bags and boxes.
Nice to get settled into Room 6 (again, with the room six, same as Southwest Chief) with a guy younger than me across the way – graphic artist, LA, custom glassware etching, printing, huge firm, does most of the crap on the Vegas strip, wants to drop out of that, get his barber degree and have a shop in San Luis Obispo where he can place jazz and blues, and chop hair. Funny, he didn't look gay, but then again, most people don't think I do.
Lunch was a Cobb salad in the Parlour car with a most cranky attendant… if you don't want to work totally full trains, don't work the holiday season. And don't overbook the Parlour Car tables… if I wanted to eat with a stranger, I'd have eaten in the regular dining car with the better selection (though the Cobb Salad was really what I needed.
Both of us guy single travelers returned to our cabins for a nap after lunch. The way of the train. Big meals, the rocking from side to side, sleep comes easily.