The cold snap is in full bloom as they say. Really noticed it when I went out to lunch with a guy from the Evergreen Foundation office… always nice to get a free lunch from your Alma Mater. I'm surprised he didn't ask me why I and my father haven't done our contribution this year… to quote the politicians of yore… "It's the economy, stupid."
Work with major client is…on hold pending working prototypes from another vendor. I did get an inquiry for work in the new year from one of my old clients – now he just has to decide how to use me, or maybe I should say, what project to assign me. Seems he misses me.
And because we are about to wrap up the holidays… the final picture of "the tree" with all its greetings and salutations to the new year.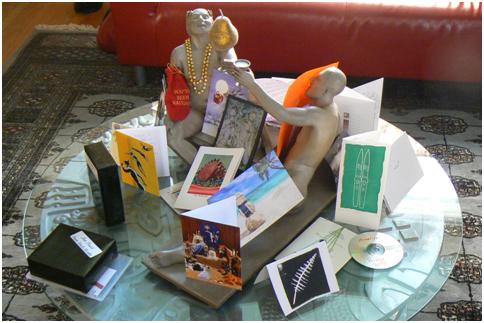 Beef stir fry with leftover vegetables and rice. Opened a nice bottle of Greener made wine, a 2008 Cor Cellars Momentum (also courtesy of the Evergreen Foundation). Will finish that tomorrow before the ball drop.
[231.4]