Lazy days here in Boston. Here is the view from the computer…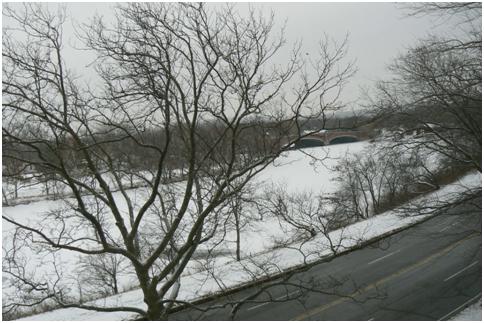 Up at 9:30, breakfast of scrambled eggs and sausage at 11:30, and lunch at 1 with Jill's family friend Faith.
And what a lunch it was. Lobster sandwiches from Alive and Kicking in Cambridge along with a dozen Bar Harbour oysters. Yum.
The afternoon was spent facing away from each other (Jill and I), me facing the Charles (a.k.a. The Chuck) at her mother's desk, she at her father's desk facing away from the river. Both hard at work on our laptops – she plugged into the Ether, me tethered to my phone.
A little more shopping for dinner… at her favorite Middle Eastern store… Sevan Bakery for traditional string cheese (not your kid's string cheese, much more salty and complex), hummus, traziki, spices, anchovies for Pucci, fresh pita, and then off to Hi-Rise Bakery for chicken… yes, chicken. After they are done baking the bread for the day, and before they start on tomorrow mornings loaves… they use the ovens to bake chickens, which they sell whole starting in the late afternoon… with onions and fresh gravy if you want it (which you do).
I'm guessing today is FOOD DAY in Boston. Well, actually it is most times I come here.
Dinner tonight with Pucci and his lady friend. Much good wine in addition to the scotch before and after.
I don't think it's going to be an early morning.
[? ? ?]