Again, with this sleeping in thing… I hope it doesn't follow me back to Seattle, that would cut into my work day.
Lots of time to randomly search the web today… and stumbled across this New York Times article:
11 Tricks to Cutting Travel Costs in 2011

Which led to this other site (TripAlertz) which actually has some deals priced better than the SniqueAway site. SniqueAway is really geared towards high end travelers that I am too cheap to be. TripAlertz is more like really good couple of day get away packages.
And you, my faithful readers can help me try out their service and earn some travel cash. Unlike the Snique site, where they offer $25 to people who refer folks to their site, but to get it, the person referred has to actually book travel through them. With the TripAlertz deal, I get $5 in travel credit for you just going to the site and registering your email (and then clicking on a confirming email). That's all you need to do, and I get the credit. Interested in more voyeuristic Uncle Markie travel adventures – here is the link to click:
http://www.tripalertz.com/pages/curtain/?friend_u=34913

If I get enough people to sign up I'll have a drawing to see who wants to come with me on a trip. According to their rules, there is no limit on the number of referrals. Come on, show me the love! Help send Uncle Markie (and maybe YOU) off on some little adventure.
Tonight's dinner is a quiet dinner for two here at Chez Pucci – pork in a whiskey reduction, collard greens, roasted potatoes and a fine bottle of wine (2000 Cote de Brouilly – Chateau Thivin en Beaujolais).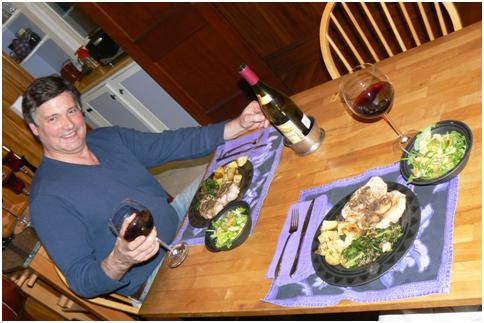 Tomorrow it's back to Seattle on the late afternoon flight. Seat 1A, dinner included.
[? ? ?]