The Good…
The view from the condo.
Getting on the 1pm ferry from Swartz Bay.
Finding a toy ferry with a working fog horn sound for Swanda's office.
Cheap 100 proof Canadian Club – even cheaper than the sign on the shelf said.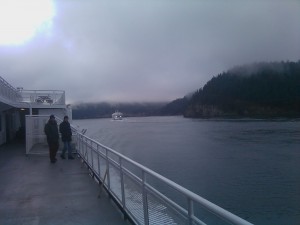 The Bad…
The traffic being one of the last cars to unload from the ferry (car number 107 on, number 97 off – from the car deck, trucks below not counted)
One idiot inspector at the border than delayed an entire line of cars from the 5 minute wait according to their signs to 45 minutes.
Not having everyone in the car on the Nexus system which speeds US/Canada crossings.
The Ugly…
Arriving in Seattle during Friday rush hour.
A guy who jumped/fell off a bridge into I-5 northbound traffic snarling both sides.
Having to decline an offer of Old Fashions and dinner from Dancing Bear due to said traffic.
I was so frazzled by the time I got home all I wanted was whiskey on the rocks and a cheese and meat platter for dinner while being a vegetable in front of the television… got home at 7pm – which on the bright side was several hours earlier than if we'd taken the ferry from Victoria at 4pm to Port Angeles, then driven to Bainbridge Island for another ferry and then home.
[? ? ?]