The usual post trip errands…
Drop shirts off at the cleaner
Drop checks by the bank
Do a Trader Joe run
Today's humorous photo – made more humorous in light of yesterday's post.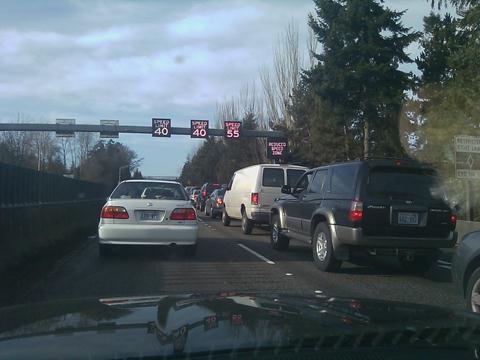 Totally stopped in traffic on 520. Notice the variable speed signs. Yeah, in my dreams. Seems there was a Huskies game or something. Odd that we are the 26th largest city in the US but are tied for 8th with Atlanta for the worst traffic mess.
The afternoon brought Rich up from Olympia in the mid-afternoon to hang out, chat about the Mexico trip in April, and kill time before heading over to Suze's for dinner.
Dinner, you ask?
Appetizers:
Dates stuffed with ricotta and wrapped in bacon
Various cured meats
Cheese
Bread
Manhattans
Wine
Main:
More bread
Asparagus
Buttered noodles with fresh parsley
Stunning Osso Bucco (braised veal shanks)
Four bottles of Italian and French wines
Dessert:
A tart homemade raspberry tart
Grappa from New Mexico but from Italian varietal grapes
YUM!
[230.5]