Starting the tax season… by sorting through the stack of papers….
Before                 After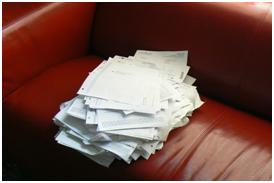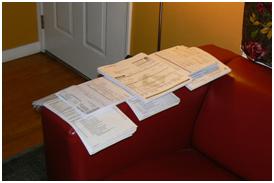 Now I just need to put them in date order and get out the highlighter to go through all the credit card and bank statements looking for business expenses, and gathering all the household costs to split for the home office deduction. And my CPA retired, so I have her replacement. I hate breaking in new people. Hopefully I can do this without a sit-down appointment.
Looks like I'm on a streak of not cooking in my own kitchen…. Tonight is dinner with Anne and Tim and a tour of their new place… oh, and picking up what seems like 40# of Christmas gifts for the Caseldons of Dublin (Ireland, not Ohio). The Simpsons book is the killer at over 8 and a half pounds… luckily Mindy is the size of an otter-pop so the four pairs of jeans don't take up much space (add socks and slippers for Jeff, and a Coach bag and you have half of my suitcase taken up. Good thing I'm only there for a handful of days (6).
Today's picture is of one of the light fixtures in Anne and Tim's house – serious mid-century, and in great shape (and a great shape)…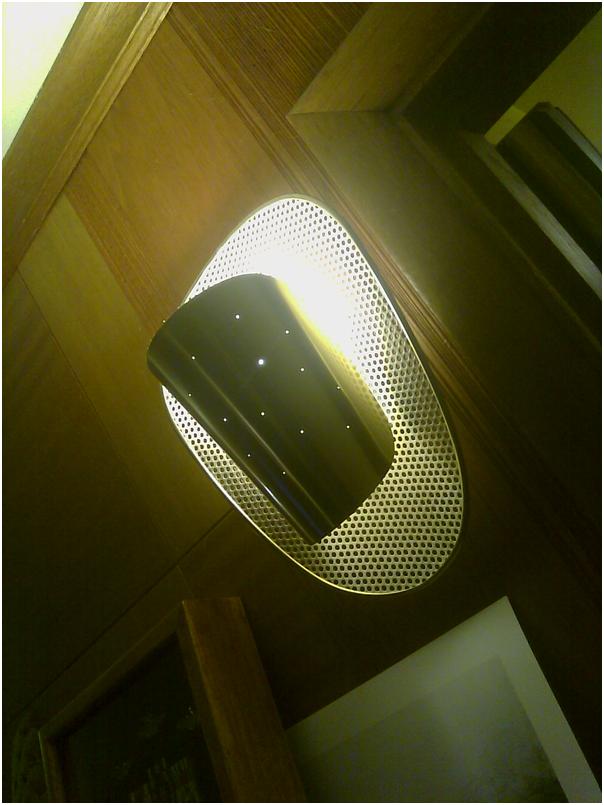 It's unfortunate that the shots of the kitchen and hallway fixtures didn't come out… damn camera phone.
A great dinner of rotisserie chicken, stuffing, gravy, veg, yum….
[227.5]