A wonderful steak and egg scramble with Solus this morning… and we were only half an hour late getting out of the house (9:30 vs. 9:00) – still made it to Julian's house in Portland by noon… and found him playing hooky from Portland State University for the day.
Off to my new favorite restaurant in Portland – the Fishwife Café… it really does look like your basic diner/dive, but the food is stunningly good, and now they have a full bar. Last time I was here was dinner with Jamshed last summer before he transitioned to a different plane. Julian had the Cajun fish salad ($10), and I had the Lunch Special Fish and Chips ($5.50 for two pieces of cod served with waffle cut fries – and just the right amount to fill you up, but not grease/stuff you) and one of the best Maker's Mark Manhattans that I've had in years – heavy on the bitters.
Julian attempted to spend the rest of the afternoon doing his homework reading… he'd get two pages and fall asleep… maybe tomorrow.
The plan for tonight's MeatFest is to grill many pounds of sausage products (half of which Julian stuffed himself) to compliment the cheese and cracker platter, and the crock pot full of Smokies® cooked in a Welchs® Jelly and Chili Sauce mix. Oddly enough, this will be the second time in the last couple of months for this recipe… last time was at Whistler for White Trash food night.
Although the suggestion for a "toga" theme had been batted around, Julian thought that was asking a bunch for people to dress up… luckily two guys showed up in costume and talked Julian into joining them.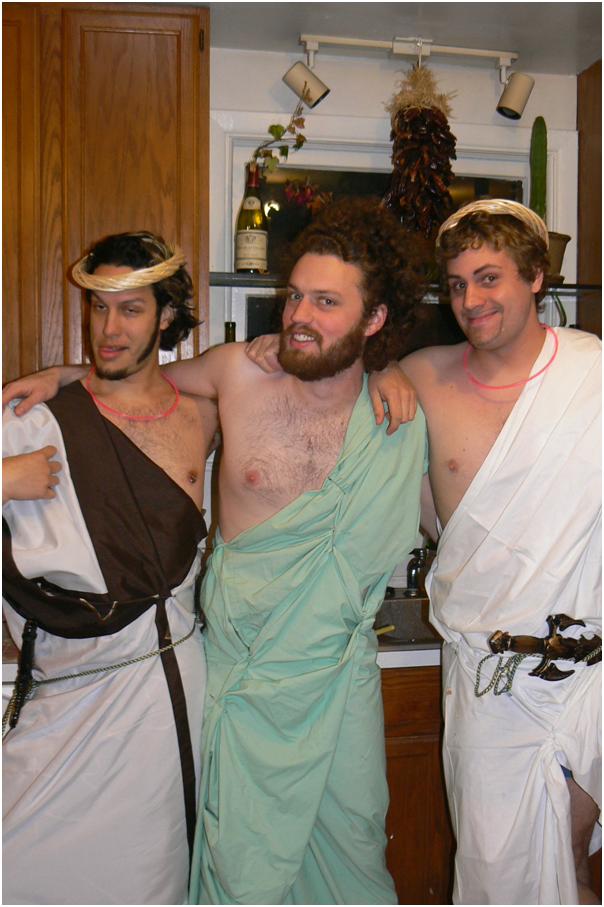 The movies on tap for tonight are:
Caligula
Dogma
Blue Velvet
The Last Temptation of Christ
Salo: The 120 Days of Sodom
The Passion of Christ
All big budget controversial movies…. We got through Caligua (and maybe one more – I'm a bit foggy about that) before we started playing with the Smokies ®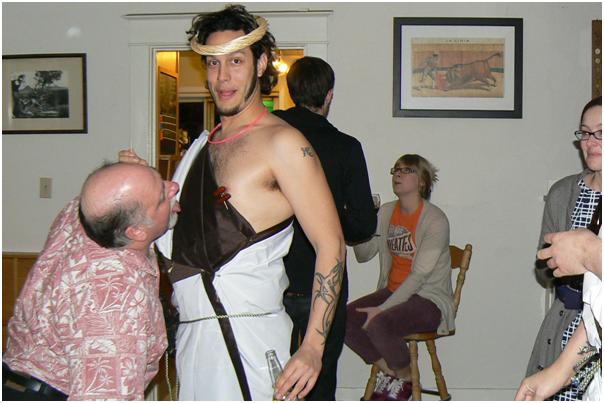 Needless to say, it was a late night. Good thing the train back tomorrow isn't until 2:50pm.
[229.5]