Needless to say, I slept in this morning as I didn't get a floor nap in like Julian did last night…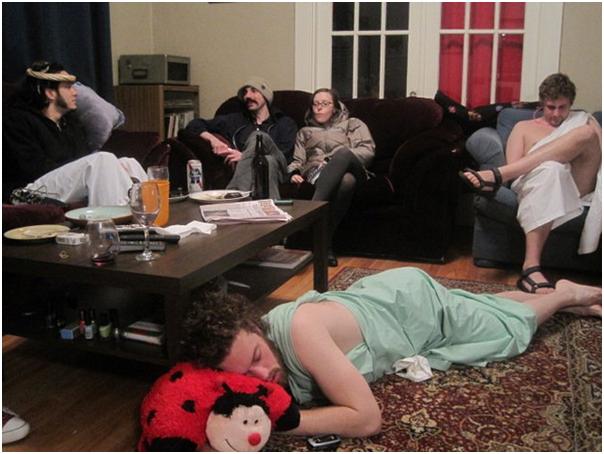 Out of the house at noon to go pick up train ticket (and get a better seat by showing up way early), then walked next door to Wilf's for half of one of their seafood salads – just the tonic I needed after the MeatFest™ of last night. Apparently Wilf's has a nice reputation as an evening jazz club/restaurant. Got to check it out some time.
Considering I only had my rolling briefcase I'm surprised that I got yesterday's Fred Meyer 60% off lowest tagged price scores packed in the bag – two $9.99 dress shirts, one $11.99 dress shirt, and one $11.99 winterish jacket (for the Ireland trip since I busted the zipper on my Antarctica jacket).
Train left on time – at 2:50, but apparently without any salads or sandwiches… but plenty of microwave hotdogs and cheeseburgers… and between LoveChild who I ran into on the train, and I, we were draining their whiskey supply. Jack Daniels, killed all they had. Jim Beam, killed them all – I stopped before resorting to Canadian Club… that's the problem when a train starts running late.
We were due in at 6:15pm… in reality, 7:30pm, and by the time I caught the bus home (conveniently located across from the train station with no transfers) it was 8:15…. Making me glad I'd had one of those cheeseburgers at 5.
Nice to be home… waiting for the house to heat back up as I turned it down to 58 while I was gone.
[? ? ?]