Dear United Airlines…
Thank you for buying Continental Airlines, and here's what I'd like to do with it. I hear you are going to add Economy Plus to all their planes, that's a GREAT idea, but I think you should adopt something of theirs as well, like a staff that actually seems to care, a staff that isn't snarky, mean, demoralized and bitter. Maybe a cross-training program could accomplish that mission. The flight attendants even shared their fesh hot warm garlic bread with me from their crew meal when I went back to the galley for another round of drinks.
At least you got a bunch of newer planes in the deal. And while you are at it, why don't you make the TV free on flights that are weather delayed… what does it cost you – not much. How does it make the passengers feel? Like you care (not that Continental did that on my delayed Newark-Seattle flight). Of course that means that you'd (United) have to add a modern entertainment system to your planes.
Your customer with just shy of 800,000 flight miles under his belt on United,
Mark Stephen Souder
AND NOW BACK TO OUR REGULAR SCHEDULED PROGRAM….
Another early day up and out – almost not early enough – no time for duty free with the THREE security screenings to get from the check-in desk (30 minute wait) through the immigration (30 minute wait) to US Border Customs (30 minute wait) that was actually in the Belfast airport which also means no duty-free on the plane as you've already cleared customs and are technically on US soil as you board the plane. On the upside it means that you can make a tight connection at Newark… like my four hour layover.
Flight from Dublin to Newark was packed – seven hours packed three to a row… all I could think about was how Colonel Eric would have been feeling – not happy. With the weather delay in the Newark-Seattle flight, at least it meant that a ton of people missed their connections and there were open seats… including the one in the bulkhead (normally an additional $109 up-charge) that make the other two people in my row VERY happy when I moved, as they could spread out.
That weather delay also added another couple of hours to that layover… the dinner I had around 5pm didn't hold up through the flight – luckily I had some dried spicy shredded squid jerky with me. My rule these days is always pack jerky of some sort (had buffalo on the way over) in the brief case because flights WILL be delayed and I get really cranky when I'm hungry and stuck.
And a nice SHOUT OUT to Wonderful who picked me up at the airport at 11:30pm…. For my 8:33pm arrival (according to the screen print he captured). Luckily he was waiting for my call, and not depending on the website….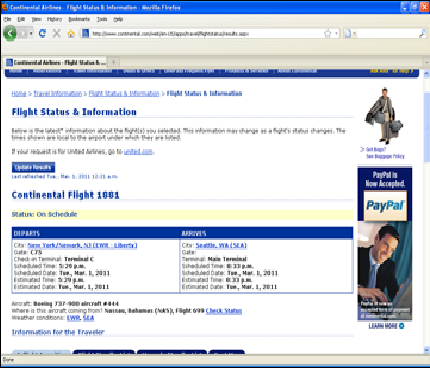 Guess they are putting all the IT money into combining the United and Continental websites, and not to actually reporting real-time flight conditions.
Now if we hadn't stayed up chatting and drinking until 3am – AGAIN – hell you'd think I was back in Dublin!
At least Wonderful got some wonderful advice from me about his hopeful job interview.
[? ? ?]