Up at 8 to make breakfast for the both of us using the new dual burner griddle…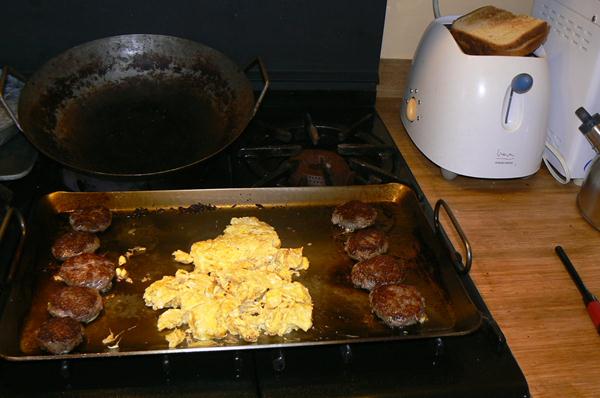 But, with all the travel, it was back to bed for a couple of hours… I needed it. 3am to bed, 8am up… with too many of those on the trip. At least I know that when I go to bed tonight I'll sleep through
Work when I got up, things are moving again with one of my clients so that's looking good, and it seems it might have a Belfast connection which would help cover the cost of that lovely but rushed fluffy bunny dish with the boys. I'm not sure that I've ever met a marathon guy (my friend) who has done a marathon with his parents…
My Dad was 3 Hours 22m
My Mum was 3 Hours 28m
Myself Was 3 Hours 36m
Dinner tonight is BBQ'd chicken thighs and onions over a bed of greens… a little wine, and some quiet time. And oddly enough the leftover onions roasted in chicken grease and the sauce will make a stunning gravy for over pre-poker steaks.
And in other news, my Portland buddy is today's NPR song of the day… click on the picture for the link to NPR:
Or click on the album cover to buy it from Amazon….
But my favorite link is to a possible new VW Microbus….
And if you care, in 1872 Yellowstone became the FIRST National Park on this very day… and my National Parks Pass is good until the end of May.
[230.2]