Up early this morning – it's an 8:40am flight but I'm parking at the apartment so it's 20 minutes north and a 30 minute south ride on light rail to get to the airport – but at $2.50 each way (for a total of $5.00) it beats the cost of parking at the airport by a factor of ten.
Got to the airport to find some happy news when I checked my bag in…. an upgrade to first that I wasn't expecting. Something must have changed since I checked in last night. Changed in a good way. Puts a smile on my face to say the least.
Got to the Board Room for a lighter breakfast (since breakfast will now be served on board the plane) and to check the United website to see if my miles had posted from the Ireland trip…. And BINGO, they had. Why is it important? Tomorrow is the last day to get a frequent flier mileage ticket for the Canada trip later this month without paying an "up-fee" for last minute booking. The trip is train to Vancouver, hang out all day, catch the evening train to Toronto arriving 4 days later, then fly home. No coach class seats have been available (12,500 miles), but with the additional miles from the Ireland trip, gives me enough to get a First Class one-way ticket (25,000 miles), which is what I really wanted anyway. As an amusing side, the Business Class train ticket from Seattle to Vancouver was a freebie from my Amtrak points. With the train being $1200 I'm trying to trim costs where I can.
Nice flight, few bumps, sitting next to another independent marketing guy who had a contract with an Olympia start-up dating service… Table For Two (which folded after the woman ran off to Hawaii with the $15,000 SBA loan proceeds)… too odd that we ended up sitting next to each other. I was purposely "vague" about my client, saying it was an "activity club" rather than dating service, which is truly what it is.
Luggage was quick, then it was off to pick up the rental car…. Their version of a mid-size ($12 a day with about $12 in crap fees) is a Jeep Compass. I'd brought my GPS with me, already programmed to head to Galena. Was expecting rain, but didn't get any thankfully. One stop for food, one stop as a nap (damn that getting up early, but better late and safe than dead).
Checked in – unpacked a little, and headed back out for groceries for dinner/breakfast/dinner. Here is the resort…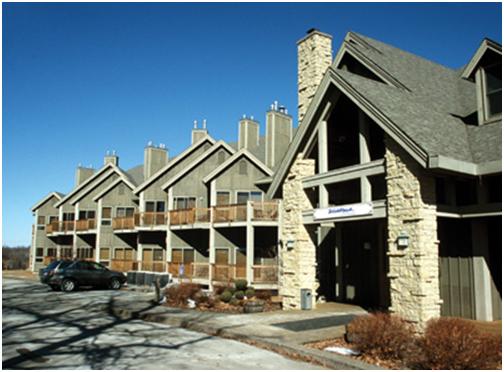 The picture makes it look so pretty – though it is set amongst the rolling hills above the Mississippi River 30 miles away – it is in the middle of nothing, 8 miles outside of Galena, Illinois – home to Ulysses S Grant. Lisa and Joe arrive tomorrow so it's kind of nice to have a quiet evening to myself eating chicken in front of the TV before heading to bed early.
[228.3]