This morning they finally collected on of my "freebie" upgrade coupons… six flights and only one coupon collected. Not bad considering four of those legs were flights to/from Hawaii.
Had to stand around for a bit after returning the car… no checked bags until 4 hours from flight time…. Absolutely NOBODY in the security lines (2), which, of course, meant that they did the new backscatter scanner thing.
Not effective
Slow as crap
Highly intrusive
Spent the next couple of hours in the American Airlines Admirals Club courtesy of my Alaska Board Room membership – but for some reason it doesn't get you free wi-fi. At least they are now offering free well drinks and have extensive food menu for purchase. I had the Cobb Salad with my whiskey on the rocks times three.
Interesting photo from the gate check-in desk… the signage to the left on the wall was a big American Airlines logo, the signage over the desk was Alaska, but pasted to the front of the counter was this very old notice about exit row seating….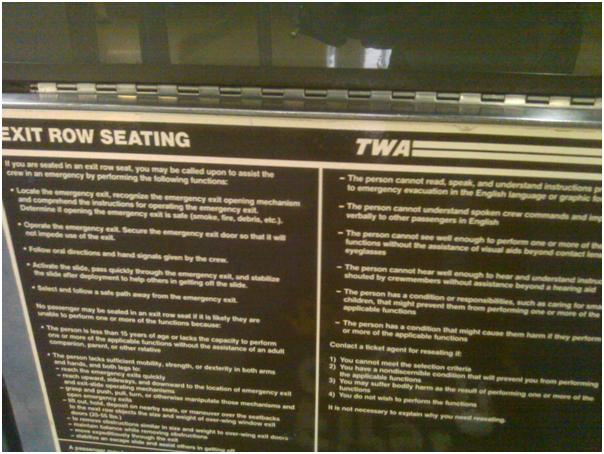 TWA – they haven't been around for awhile (bought out by American years ago).
And speaking of interesting photos – there was a mother/daughter in 1A and 1C, mother had the traditional Muslim scarf head covering… but the little roll aboard that the daughter was wheeling had the Muslim version of Barbie® on it…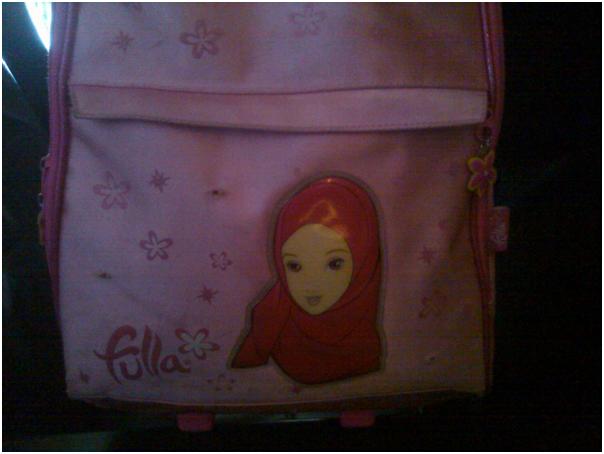 So very, very, odd.
Plane was on-time – by 7pm I was at the apartment and trying to inflate my flat tire. Big hole when you can feel the air coming out. Took presents upstairs for Swanda and Fluffernutter, had a couple of drinks, came back down, dumped a half a can of sealant in and re-inflated. It held.
Stopped for junk food on the way home. Too tired to cook.
[? ? ?]