Up early because I've got an 11am meeting in Queen Anne with the Boltage(tm) folks. Nice to see that project moving forward again.
Was sitting eating breakfast when I heard a key in the front door lock, that's right, MoonSong is cleaning this Wednesday. I tend to lose track of which Wednesday is Cleaning Wednesday when I'm on the road so much.
This morning I decided to add a day to my Olympia overnight and head down to Seaside to see the boy since a) he's available for a rare overnight and b) there is room at the WorldMark Seaside for $35 + taxes ($43 total). Guess I'd better bill a couple of hours to cover the condo and gas to get down there.
Good meeting at 11 — lots of marching orders and my first hands-on look at the prototype which means I can now work on the belt and bag to go with it. Back to sewing over the weekend at my consulting rate — I must be the highest prices seamstress around.
The afternoon was spent tracking down component suppliers and I managed to find a source up by DancingBear's house in north Seattle that actually stocks all the pieces we need, which really blew me away — besides the fact that the place is filled with pretty hippy boys.
The rest of the afternoon was spent getting a colony of sugar ants out of my portable ice machine… really, how gross. Drain, purge, dry — hopefully I won't have to get the air gun out as well. I might have to just keep it running all the time since they seem to like the moisture when it's turned off… which eventually will me getting a new "ice full" sensor … at least that is user replaceable, but not orderable online.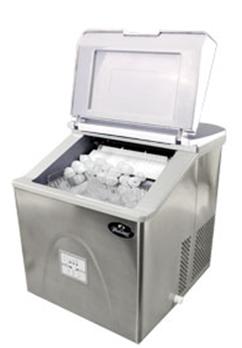 Finished cleaning the machine in time for cocktail hour. I spent part of my time in Ireland trying to convince Jeff and Mindy that they needed to get one of these (105 pounds with 15 pound shipping).
Dinner tonight was a thin steak and some salad and the remainder of last night's bottle of wine. Somehow I can only manage to drink ½ a bottle of wine when dining alone.
Prepped main courses for Seaside and Olympia dinners before heading to bed.
Long day of driving tomorrow.
[230.6]