Breakfast of eggs and toast. Traditional Rose Street breakfast.
"Gift Bag" drop off at the Microsoft campus for Boltage prototype… the campus has gotten scarily large… and by the way, it's on BOTH sides of the highway, and extends to the left and right out of the picture. Nice soccer/baseball field in the middle — been there from the beginning.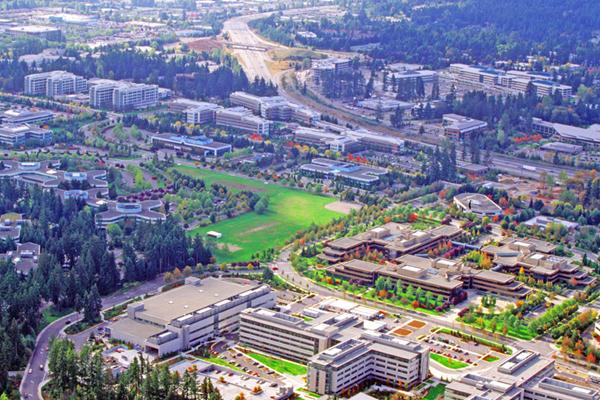 I started at MSFT in 1989 at 3,500 employees, left 10 years later at 35,000 employees, and this is what the campus looks like in 2011 with 90,000 employees an about that many support staff. When it was 3,500 people, we were all on payroll, right down to the mailroom (thank you for handling all those scotch and wine deliveries). When I left, they had outsourced the mailroom to Pitney Bowes, and the receptionists to Kelly, and even the Administrative Assistants were a 3rd party vendor. Scary. And weird to be back on a corporate campus that has tripled in size. Even the company store weirded me out.
Dinner was bockwurst and kraut — didn't even have any white wine to put in the broth.
It was after dinner than I got "the call".
I was chatting (yes, me, on the phone) with a buddy from Boston when at 8:20pm my time a call came from my father… that's 9:20pm his time. Drop first call, take father's call. 9:20 is after this bedtime, or at least about "drops for eyes" time. He's had some prostate cancer issues which apparently have not responded to treatment and have become aggressive. Tests next Monday, results the following Monday (after I'm back from CanadaLand). His spirits are good ("I've had a good 87 years, chuckle, chuckle), but the next two years will be interesting.
Guess I'd better start saving those frequent flyer miles.
Hang on to the rail and try not to throw up.
[229.0]