I should have taken the bus to Canadaland.
Up at 5:30am to catch the 7:30am train to Vancouver, the later train gets in too late and I don't want to have to spend the night. Got checked in at noon, and am having a good feeling about this train trip . . . they are holding my carry-on for the day and will deliver it to my roomette before I even board. How civilized.
And it was good to meet Helene at the train station in Vancouver and then go off for a lovely smoked meat sandwich before retiring to her house, for a nap. I've got plenty of time because the Trans-Canada doesn't leave until 8:30 tonight.
BamBam and Hummingbird came over late afternoon to split a bottle of red, and bottle of bubbly, and a truly amazing pupu platter spread laid out by Helene. Its odd feeling "homeless" in Vancouver, I'm so used to having a room at The Canadian downtown.
Lots of public transportation to get around town. Yes, I even took busses today.
Got back to the station at 7pm with the boys in tow . . . Helene walked us to the bus stop from her apartment in "The Unique".
My initial feeling about the train trip, technically "The Canadian" was tempered a bit by the sleeping car lounge for the Blue and Silver Service (Touring Class sleeping passengers), I'm afraid that the lounge in Portland has them beat, and since I'd checked my laptop, I couldn't even use the wi-fi (and didn't want to on my phone). There was an outdoor lounge as well, but it's not exactly the weather for it, but it did have a nice view of the train and the "bullet" lounge that is the last car on the train: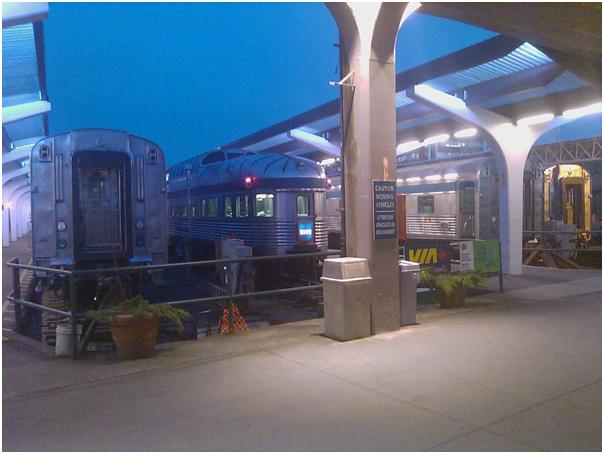 But soon enough I was settled into my compartment for the three and a half day adventure. Complete with welcoming champagne in the bullet lounge which was so crowded that I just brought it back to the cabin.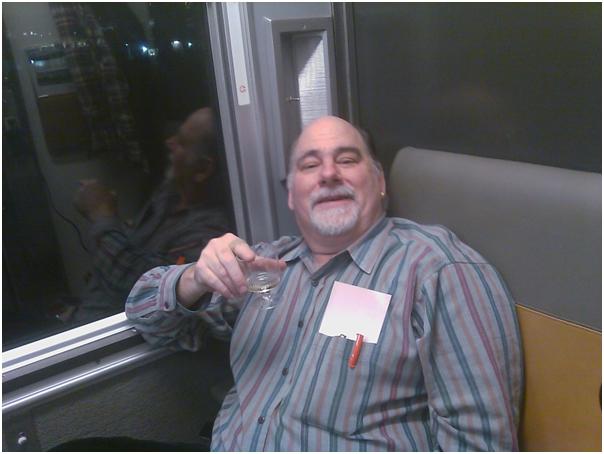 And off we go into the night . . . albeit slowly as we have to give way to all the freight traffic. No wi-fi on the train, next possible wireless stop is Jasper tomorrow afternoon, so this evening I just sit and read the paper and have a couple of cocktails and finish my smoked meat sandwich from lunch.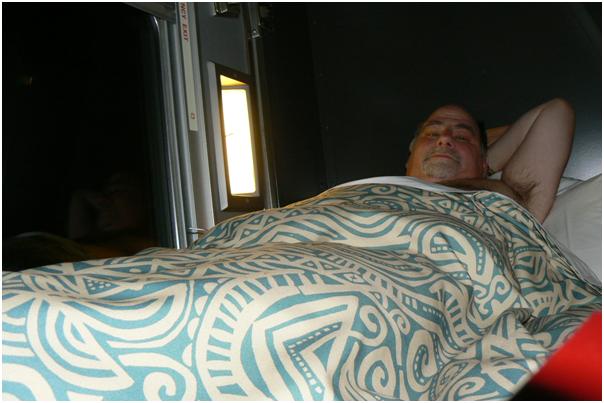 [? ? ?]