Now that we are on the prairie the train has picked up speed . . . lots of speedy – – 65-70mph according to the GPS unit hooked to the computer which for the evening I had mounted in the rack over the bed: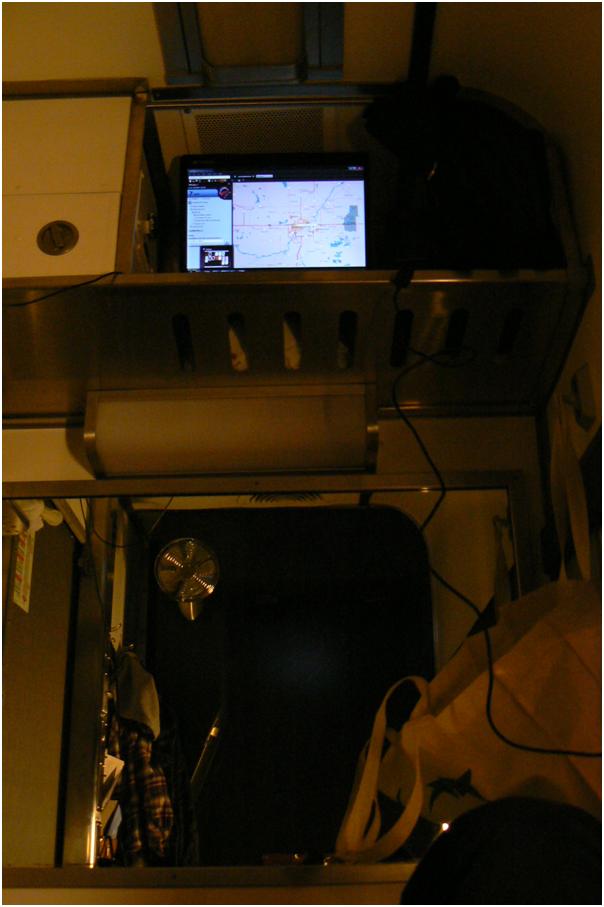 The down side of all this speed is the train is rocking back and forth so much that it's impossible to sleep on your side as the train keeps wanting to roll you over. My problem is that I've trained myself to sleep on my side to minimize snoring. It's hard to break that training in one day.
After my Trans-Continental breakfast of two eggs sunny side up, grapefruit juice, coffee, rye toast, ham and hash browns, it was back to bed to get another three hours sleep. Had fresh clothes and fresh teeth for breakfast, but didn't get to the shower room until before lunch. FYI, nicer shower rooms than on Amtrak, more space in the dressing room area.
A note for the Colonels, maybe you should think about taking "The Canadian" when you come to visit Seattle. Food is equal or better, and they have a curtained at night berths where you could each get lower berths — and the seats look comfortable as they do recline a bit (or a lot, but that makes it a bed).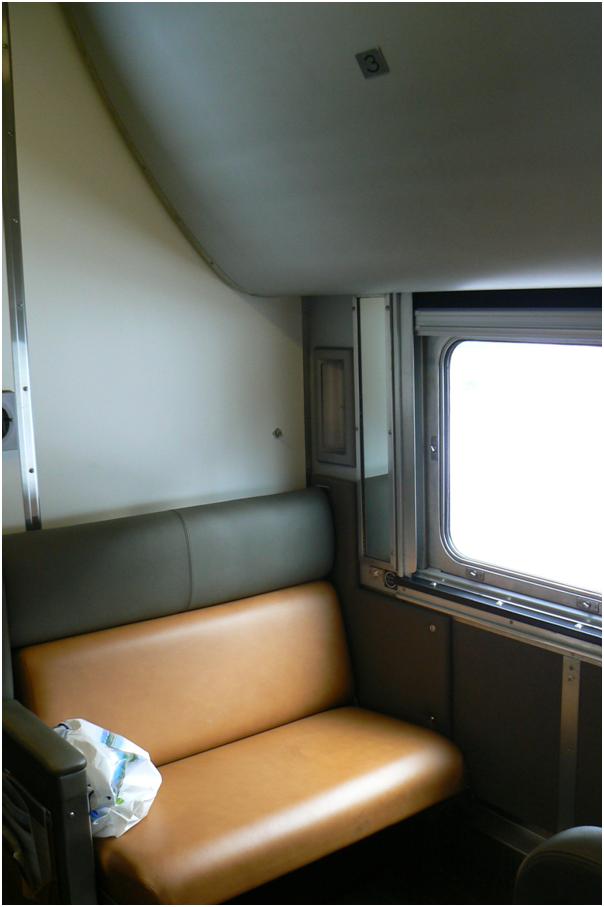 Much cheaper for a compartment with a door, and there is a couple on board from Michigan/Florida (depending on the time of year) who seem quite comfortable with that set up. The picture is a seat for ONE person. Plenty wide.
And how have I been spending my time on board?
Looking out the window
Eating three meals a day with strangers
Finished Imbibe magazine (needs to be split between Swanda, Pucci, and a Colonel when I get home)
Finished Popular Mechanics magazine (bits to Cochran, and got a great idea for an adhesive for one of the products I'm working on)
Finished the last New Yorker from Swanda (passed along to fellow passengers)
Finished Paul Theroux's The Old Patagonia Express (goes to Brother Jon, then Jameson)
Funny thing about that book – – I thought it was going to make me more excited about the possibility of using miles to get to either Quito or Lima, and then onto Cusco for the train to both Macchu Pichu and Lake Titicaca . . . it seems to be having the opposite effect, it's making me want to go back to Argentina and finally explore wine country (even though it's more Frequent Flier miles).
Today's video clip:
Dinner was the prime rib of beef that looked so good I ordered the most expensive bottle of red on the menu — a red out of the Okanagan at $49 a bottle. The Caesar salad before was nice an anchovy, but the steamed veg a little soggy. And no rolls, but great company as I got to sit at the kiddy table — two asian lads half my age (Korean and Chinese).
Got to end this post as we arrive in Winnipeg at 8:30pm and need to get it uploaded after I tip the conductor for keeping me supplied with ice for the last couple of days. After having trained him to bring a bucket of ice while I'm at lunch and refill it while I'm at dinner, now I need to train another attendant since he gets off in Winnipeg tonight.
[? ? ?]