I'm really settling into a routine — the early breakfast, then back to bed followed by the shower and lunch interspersed with reading. Today I've started a Sandra Brown detective novel (bubble gum for the eyes and brain) called "Fat Tuesday". Needless to say, it's set in New Orleans.
Lunch was especially good today with the asparagus soup at a starter and the main was a Greek salad with grilled shrimp on top – – and I even had dessert since it was a black cherry ice cream.
There was a diversion to today's standard afternoon – – a live singer songwriter duo headed back from Winnipeg to Toronto entertaining at 3pm in the forward dome lounge and 8pm in the "bullet" lounge.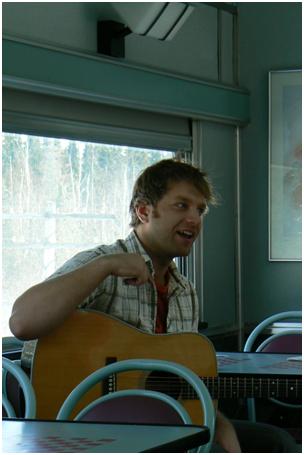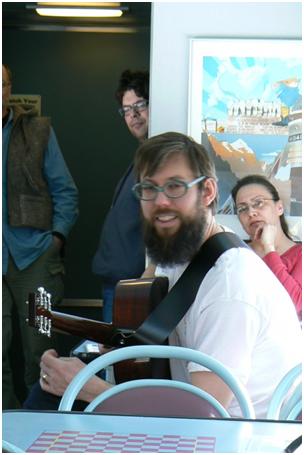 They are really good together even though they don't actually play in the same bands, but have been friends long enough to know a lot of the same tunes. This almost makes up for the fact that today, more than usual has been a day of stops and starts on the train. I'd say the economy has recovered judging by how many freight trains we've had to stop and let through.
I'm thinking that means no possibility up an upload during the 35 minute stop at Hornpayne. I'm guessing whistle stop at best.
Dinner was a lovely rack (5 ribs) of lamb, scalloped potatoes, Atlantic seafood chowder, a spinach mandarin salad – – and a free mimosa (to go with the remainder of last night's bottle of wine) because of the delay.
After dinner it turned into a party in the Park Car – – the official name for the "bullet lounge" I've been referring to. The boys were back playing, that would be Michael Peters on the right and Keith Price on the left in the photo above.
Here is a little snippet of their performance in the Park Car:
And a great picture of the view from the top of the stairs leading up to the now vacant dome section.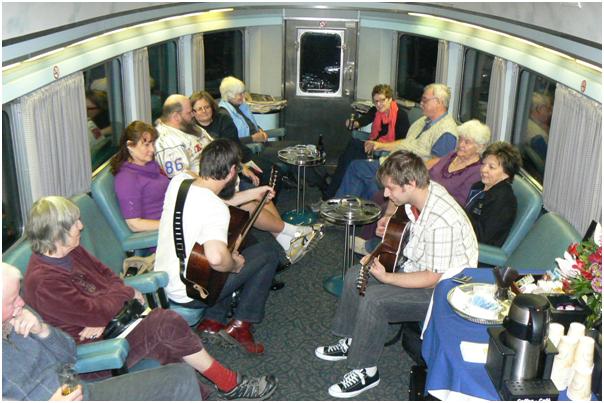 After the concert I bought them a round, no wonder my liquor bill was $80 with tip for the night, along with picking up CDs (2 for $20) from each of them.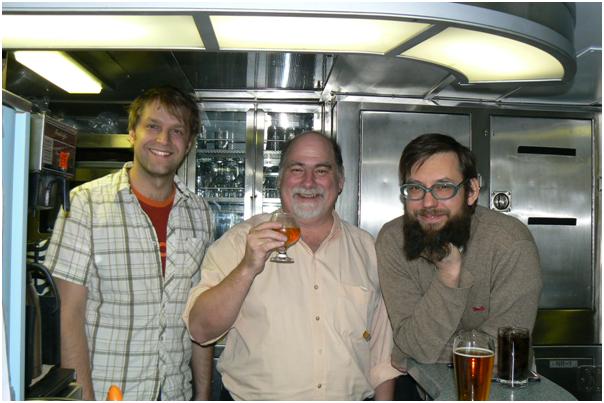 Yes, we are BEHIND the bar.
Most of the time they were playing we were stuck on a siding, this time not due to freight trains, but due to the train engineers running out of time on their clock (no more than 10 hours). So, here we wait for a replacement crew 30 minutes from where the crew was supposed to change – – nothing like seeing a pickup truck with train wheels pull up beside the car.
Now for the real question: What time will we arrive in Toronto?
[? ? ?]